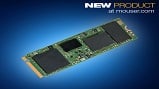 Global electronics distributor Mouser Electronics, Inc. is now stocking the Intel® Solid State Drive (SSD) 600p Series. Designed for easy installation and optimized for enhanced PC experience, the Intel® SSD 600p Series accelerates office applications, 4K video playback, HD content creation and everyday gaming. Compared to traditional hard drives, the Intel® SSD 600p Series delivers power efficiency, a small form factor for system flexibility and better overall performance.
The Intel® SSD 600p Series, available from Mouser Electronics, offers capacities from 128 GBytes to 1 TByte in the single-sided M.2 (80 mm) form factor, giving system designers flexibility for thinner and lighter systems or more space for other components. The SSD is designed for a range of devices from desktops to laptops. It effortlessly manages demanding consumer client applications and easily handles intense multi-tasking. Available with the PCIe Gen3 x4, NVMe interface, the Intel® SSD 600p Series improves PC responsiveness with fast application launches and file loading.
The Intel® SSD 600p Series accelerates platform performance with sequential reads of up to 1,800 megabytes per second (MB/s), sequential writes of up to 560 MB/s, and random read and write input/output operations of up to 155K and 128K, respectively. With the Intel® SSD 600p Series integrated in the PC system, users will work more efficiently, with up to three times' better performance than with SATA SSDs. The SSD also offers low-power modes, which may extend battery life, reducing idle consumption by over 90% compared to a typical hard disk drive and reducing power consumption from watts to milliwatts.