When Western Digital Corp. (WDC) acquired SanDisk Corp., it was assumed the storage maker was after a stable NAND supply. However, through an accumulation of acquisitions, WDC may emerge as the No. 1 player in enterprise solid state drives (SSDs) in 2016, according to data from IHS.
Make no mistake, at the core of the acquisition of SanDisk was the ability of WDC to grab hold of a stable NAND flash memory supply from the joint venture of SanDisk and Toshiba. However, prior to SanDisk, WDC made a series of smaller acquisitions in the hopes that these deals would help it gain traction in the SSD market, where it (along with other traditional hard disk drive manufacturers) were slow to transition.
Not jumping into the SSD market right away allowed flash memory suppliers to swoop in and gain market share forcing HDD vendors to play catch up. WDC acquired Silicon Systems, Virident, Stec and Hitachi GST's SSD business to accomplish this, but the volumes were small compared to leading NAND flash vendors such as Intel, Samsung and Micron.
According to Fang Zhang, senior analyst for memory and storage at IHS, the combination of what WDC already acquired with these companies and SanDisk will produce a potential enterprise SSD heavyweight capable of competing with the current leaders. Combining SanDisk's enterprise, SSD revenue with that of WDC through its acquisitions would give WDC revenues of $1.68 billion in this market compared to $1.2 and $1.1 billion for Intel and Samsung, respectively.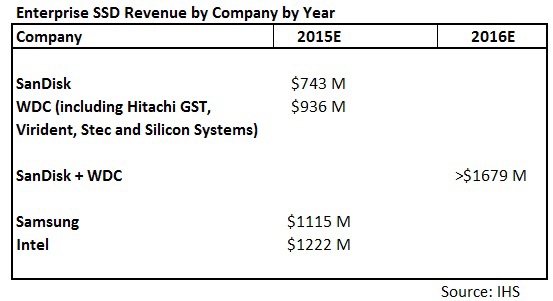 IHS data suggests the combination of SanDisk and Western Digital could produce a new leader in the Enterprise SSD market. Source: IHS
"Western Digital can now claim they are a vertically integrated storage solution provider, which is something they couldn't say previously," Zhang says. "But there is still plenty of work to do in streamlining its product offerings given the SanDisk acquisition."
With numerous different pieces from different companies combined into one entity, there is likely to be a fair amount of overlap in its product offerings specifically with Silicon Systems and SanDisk that compete in similar markets. Given SanDisk has a larger volume, it may be of more importance compared to the volume generated by Silicon Systems, Zhang says.

Fang Zhang, senior analyst for memory and storage at IHS
"So in the coming months, we are likely to see some cutting of projects or moving of resources in order to reduce duplication inside of Western Digital," Zhang says.
Outside of the enterprise market, opportunities abound for WDC to gain traction given that SSD penetration continues to grow in all markets. On the consumer side, IHS says that of all the PCs sold, 30% now contain a SSD and Dell says that in 2016, it expects 60% of its corporate PCs will ship with a SSD. Meanwhile, Apple and Microsoft are reaching 100% adoption of SSDs in its product offerings.
All told, IHS forecasts that the SSD market to pass $13 billion in revenues this year and will surpass HDDs in revenue by 2019 with $20.8 billion versus $19.6 billion.