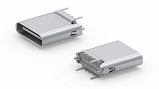 Mill-Max has added the Vertical SMT SuperSpeed Universal Serial Bus 3.1, Type C, to its line of USB IO Sockets. This receptacle is 2X faster than USB 3.0 with more efficient data transfer, higher throughput and improved I/O power efficiency. Mill-Max already carries the USB 3.1 Top-Mount and Mid-Mount style receptacles.
The connector comes in a full metal housing with enhanced EMI/RFI prevention. The type C connector style has no polarization, so cables with type C plugs may be connected regardless of orientation.
The connector is backward compatible with previous USB versions. It provides optimized power efficiency to reduce drain on portable device batteries.
The connector comes packaged in trays of 100 pieces.