Hirose has developed a mid-mount USB 3.1 Type-C connector with an efficient design that offers a compact footprint to save valuable PCB space. Featuring a depth of only 8.35 mm, the shorter design creates additional PCB space for optimizing antenna design and allows for larger battery capacity.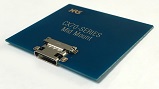 Hirose CX70 USB 3.1 Type-C connector. Source: Hirose.
By comparison, conventional Type-C connectors are significantly longer, up to 9.4 mm, which consumes valuable PCB real estate. The CX70 Series USB 3.1 Gen1 Type-C compliant interface connector supports 5 Gbps for high-speed applications.
The Hirose hybrid CX70 Series simplifies retrofit and repair operations by utilizing both SMT and through-hole soldering. Its hybrid design also facilitates automated optical inspection and eases reworking of the solder terminal joints with a visible lead design. The USB 3.1 Type-C connector features a symmetrical mating design that allows for reversible plug insertion.
The mid-mount, 24-position CX70 Series USB 3.1 is rated 5 A for a total of 100 W of power.