While wireless recharging in the consumer space is still in its nascent stages, scientists from the Imperial College of London are looking to port similar technology to flying drones, allowing them to potentially stay airborne indefinitely.
The technology being researched uses inductive coupling where two copper coils are tuned into one another, allowing for the wireless exchange of power at a certain frequency. While this technology has been around for many years, wirelessly powering flying technology has been elusive.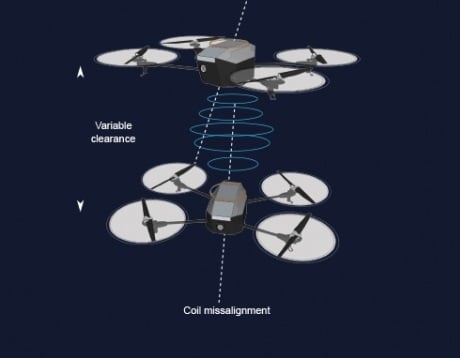 One potential use for wireless power transfer recharging is using one drone to recharge another mid-flight. Source: Imperial College of London The technology could allow flying drones to recharge by simply hovering over a ground support vehicle, potentially opening up a number of new opportunities for industrial applications. The drones could also be recharged by another drone in mid-flight, removing any need for support vehicles.
Scientists believe that if they can demonstrate the wireless technology on a flying object like a drone, this could possibly pave the way for wider uses of the technology, such as implantable miniature diagnostic medical devices that can be charged from a source outside the body. This would not only make implants less invasive, but also it could create new types of implants that can be safely recharged. Other uses could be to recharge space equipment on long-term interplanetary missions, in industrial sensors, or in new ways the military gathers intelligence.
How They Did It
The Imperial College of London bought an off-the-shelf quadcopter drone, altered its electronics and removed the battery. Then they made a copper foil ring, which is a receiving antenna that encircles the drone casing. A transmitter device was made out of a circuit board connected to electronics and a power source, creating a magnetic field on the ground.
When the drone flies into the magnetic field, AC voltage is induced in the receiving antenna and the drone converts it into direct current (DC) to power it.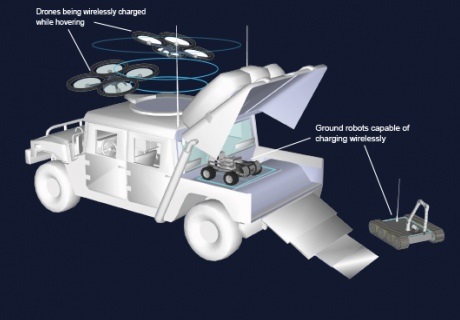 Flying drones would never have to land using this technology, as they could re-charge in flight over a ground support vehicle. Source: Imperial College of London While still in an experimental stage—the drone can only fly ten centimeters above the magnetic field—scientists believe they are only one year away from developing a commercial product.
The team of scientists say one real-world application that could immediately use this technology is in small drones for surveillance, reconnaissance missions or search and rescue operations. While UAV use in this area is rapidly increasing, the issue is that the drone can only travel a certain distance before losing power. Wireless power-transfer technology could lead to drones staying in the air longer, allowing for longer rescue times or surveillance missions.
"There are a number of scenarios where wirelessly transferring power could improve drone technology," says Dr. Samer Aldhaher, a researcher from the Department of Electrical and Electronic Engineering at the Imperial College of London. "One option could see a ground support vehicle being used as a mobile charging station, where drones could hover over it and recharge, never having to leave the air."