NASA successfully launched the Antares rocket, topped with a Cygnus cargo spacecraft, Monday night, October 17, from Wallops Flight Facility in Virginia. Spectators were able to see the launch from locations up and down the East Coast, and on live streaming video shared by NASA.

Built by Orbital ATK, a private aerospace and defense company, the Antares rocket is on its sixth ISS re-supply mission for NASA, returning in a new configuration. This launch took place nearly two years to the day after the Antares-130 exploded seconds after lift-off during what was also supposed to be a re-supply mission. No one was injured in that explosion, although a launch pad was damaged, according to CNN reports.

The Antares-230 configuration uses new RD-181 first-stage engines, in place of AJ-26-62 motors, which had been a refurbishment of engines built by the Soviet Union in the 1970s. The new engines boast more power, permitting a greater payload capacity.
Along with the Antares rocket, the Cygnus, also built by Orbital TK as part of NASA's Commercial Orbital Transportation Services program, has also been enhanced with a larger pressured cargo module, redesigned fuel tanks and new solar arrays. The 13,608-pound spacecraft is powered by an IHI Aerospace Delta-V engine, derived from a propulsion system frequently used by communications satellites. The engine burns hydrazine propellant.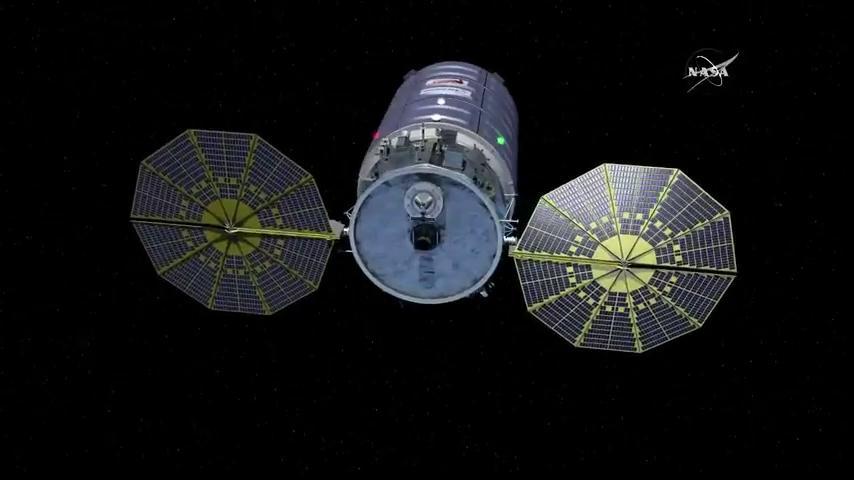 The Cygnus should arrive at the International Space Station on Sunday, where the ISS crew will maneuver it into position to unload 5,100 pounds of cargo, including equipment for science experiments, vehicle hardware, computer gear and provisions for the crew.