NASA engineers want to learn more about accidental spacecraft fires that could occur in space—so they decided to intentionally set one—the largest man-made fire in space ever.
The first of three planned flight experiments is scheduled for launch in an Orbital ATK Cygnus cargo vehicle next week from NASA's Kennedy Space Center in Florida.
"NASA's objective is to reduce the risk of long-duration exploration missions, and a spacecraft fire is one of the biggest concerns for NASA and the international space exploration community," said Jason Crusan, NASA's Advanced Exploration System director.
NASA's Spacecraft Fire Experiment, or Saffire as it's called, will be conducted remotely by Saffire and Orbital ATK personnel.
The fire testing will be conducted to learn more about how fire acts in space and help NASA create more efficient materials and technology to reduce risks and increase flight safety.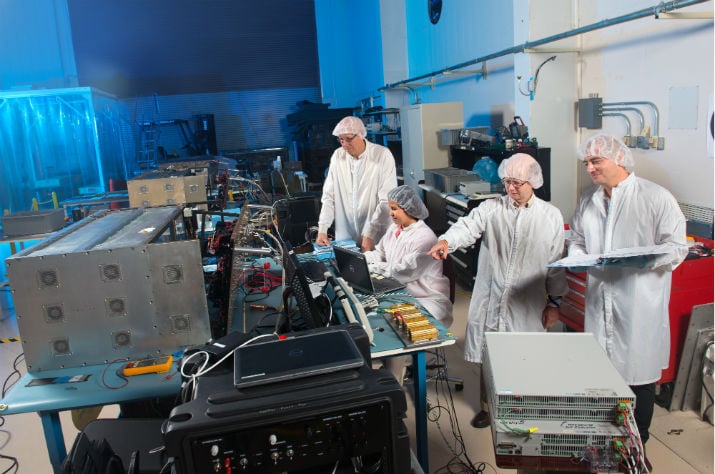 Saffire_Team A team of scientists and engineers tests the components of Saffire I and Saffire II. (Image Credit: NASA)The experiment
The fire will take place in a 3 x 3 x 5-foot module that will be carried aboard Cygnus. Once Cygnus gets to the space station, the module will stay aboard the vehicle while supplies for the station are offloaded. Once the vehicle is on its way back to Earth, the experiment will be conducted.
Each Saffire module is capable of describing and documenting the burning of large materials in a microgravity environment. The samples that will be used are similar to those found on the space station and the Orion spacecraft that will eventually take astronauts to an asteroid and Mars.
All of the images and data that are captured from inside the module will be relayed to Orbital ATK and to Glenn before Cygnus returns to Earth so that they can analyze the data and use it to further develop technologies to protect future astronauts.
"Saffire will be the biggest man-made fire ever in space. Currently we can only conduct small combustion experiments in the microgravity environment of the space station. Saffire will allow us to safely burn larger samples of material without added risk to the station or its crew," said Gary A. Ruff, NASA's Spacecraft Fire Safety Demonstration project manager. "Using the Cygnus cargo vehicle to host Saffire offers a unique opportunity to conduct beneficial spacecraft fire-safety research using existing mission profiles."
Two more fire flight experiments will be conducted this year: Saffire-II will assess oxygen flammability limits using samples that are two inches wide and 12 inches long, and Saffire-III will assess a second large-scale microgravity fire. Each module will be flown aboard an Orbital ATK Cygnus cargo vehicle during a re-supply mission to the space station.
Engineers will work to develop three more experiment modules that will be launched in Orbital ATK cargo vehicles in 2018.
Learn more at NASA.