Dinosaur heads, hats, skateboards, and more…
Among the slew of fabrication machines that were displayed at World Maker Faire 2016 in New York over the weekend, contraptions like desktop water jet lasers, 3-D printing arms, and engravers that work with on-board cameras, was Epilog Laser, engraving some miniature Aztec calendars for bystanders.
Depending on what kind of laser engraving system a user decides on, basically it gets attached to your computer like a printer and then allows users to cut designs created in most graphic software programs.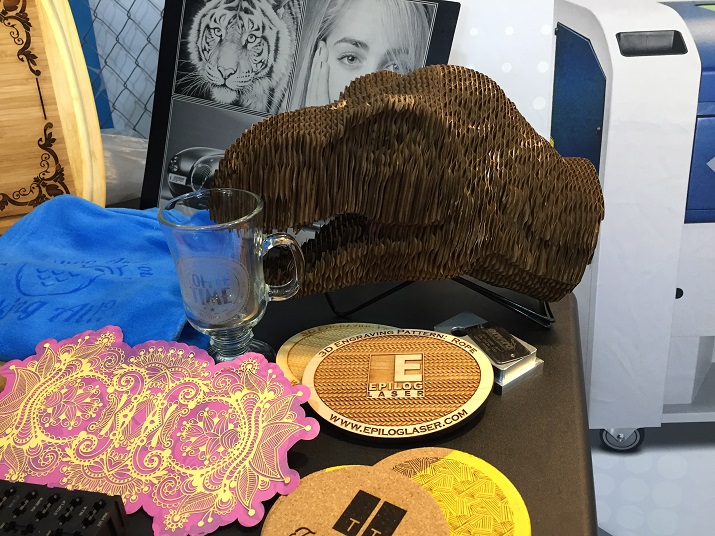 Things you can make with a laser engraver.
To use one (again this depends on what kind of engraver you have) users set up page sizes to the size of the piece being engraved, creates the image, and prints it to the laser.
Lasers like the one seen above at Epilog's booth at World Maker Faire in NYC can engrave materials like wood, acrylic, plastic, glass, leather, fabric, coated metals, and ceramics – just to name a few.
Over the weekend, tech enthusiasts, crafters, educators, tinkerers, hobbyists, engineers, science clubs, authors, artists, students, and commercial exhibitors gathered to show off some of their latest products and skills.
In the video, you'll get in on the laser engraving action that was taking place in the fabrication portion of the event. According to Epilog representatives at the show, in just 11 minutes, users could watch mini Aztec calendars printed right before their eyes.
This is just a small glimpse of what laser engraving technology can do.
Epilog's lasers engraved the awards, dinosaur head, skateboard, and laptops that were also present at the event.