OmniVision Technologies, Inc. has announced an addition to its portfolio of automotive image sensors—the OV7261—featuring high near-infrared sensitivity and a global shutter architecture. The company positions the OV7261 as an ultra-compact and power-efficient imaging solution for gesture control and driver-monitoring applications, such as driver drowsiness and distraction detection, which are becoming popular features for the latest semi-autonomous vehicles.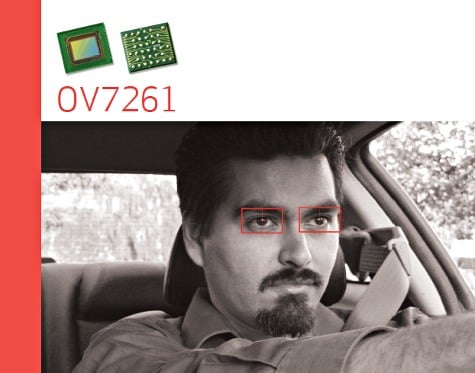 With high near-infrared sensitivity and global shutter capability, OmniVision Technologies' OV7261 targets automotive applications, including detecting driver distraction, drowsiness and gesture recognition. Image source: OmniVision Technologies, Inc. OmniVision expects significant growth in the driver-state monitoring system market through 2020, as automotive industry participants push to implement advanced camera applications not only on high-end luxury vehicles, but also on mainstream automobiles. According to Jeffrey Morin, OmniVision's senior automotive marketing manager for North America, the company's strategy behind the OV7261 is to "drive down the cost, power and space requirements of implementing vision-based driver-monitoring systems without sacrificing image quality or product reliability."
Based on a relatively large three-micron pixel, the OV7261 permits significant LED illuminator power reduction due to its high quantum efficiency at near-infrared wavelengths. The sensor's global shutter pixel also enables accurate fast-motion capture and stereo vision pixel-level synchronization.
Supplied in an ultra-compact 3.9 x 3.4 mm AEC-Q100 Grade 2-qualified chip scale package, the device provides 640 x 480 pixel (VGA-level) resolution at frame rates up to 100 frames per second. It also features a 10-bit RAW image output.
The OV7261 is available for sampling now, and is expected to enter volume production in the first quarter of 2017.