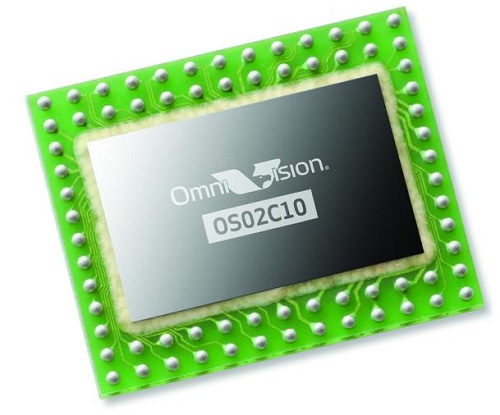 The OS02C10 image sensor. Source: OmniVision TechnologiesOmniVision Technologies Inc. has introduced a new 2.9 micron, 2 megapixel image sensor with ultra-low-light technology that can detect light in both visible and near-infrared (NIR) wavelengths.
The OS02C10 combines ultra-low-light technology with OmniVision's NIR technology to produce precise color and monochrome images for security applications. The Nxyel NIR technology infuses the image sensor with quantum efficiency of 60% at 850 nm and 40% at 940 nm, which OmniVision claims is two to four times better than competing devices.
NIR lighting cannot be detected by the human eye in dark indoor settings at 940 nm while at 850 nm the light is applicable for outdoor security cameras. At 940 nm, the indoor security cameras will not disturb sleeping occupants but can detect intruders.
OmniVision's dual conversion-gain technology enhances the ULL performance while the three-frame staggered shutter minimizes motion artifacts and enables a high dynamic range (HDR) of 120 dB. These technologies can also upgrade to 2K and 4K resolution as security systems transition to higher-quality displays.