InVisage Technologies Inc. has announced the SparkP2 HD near-infrared (NIR) camera sensor for the Internet of Things (IoT) camera market. Other applications include use in iris scanners, augmented-reality systems, security, machine vision, collision-avoidance for autonomous vehicles, gesture recognition and drones. SparkP2 is a 1.1 µm pixel, 2-megapixel (MP) sensor in an ultra-compact 1/7-inch format.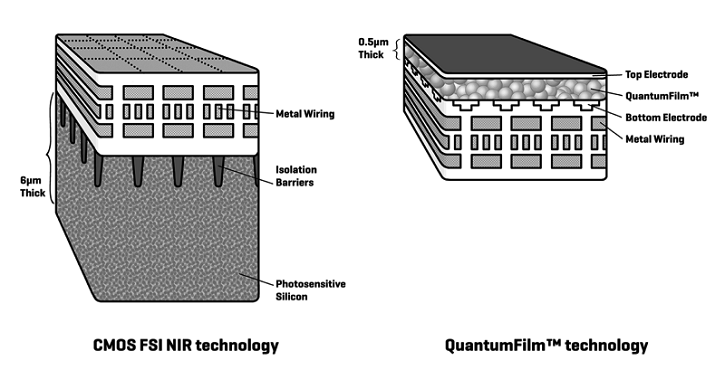 Rolling Shutter vs. Global Shutter for IoT
According to InVisage, the majority of today's near-infrared (NIR) cameras use a rolling shutter, which can interfere with spatial analysis (essential for collision avoidance) and make an augmented or virtual experience less realistic. Although newer designs are using a global shutter, they tend to be low in resolution and high in power consumption. SparkP2's global shutter works in tune with a pulsed LED, which optimizes the LED battery usage to just 10 mW (versus 750 mW for the LEDs used with rolling shutter NIR cameras, InVisage says). The imager's low power consumption in turn enables more compact, lighter-weight product designs due to smaller battery requirements.
Conventional infrared sensors that use silicon as their photosensitive layer also have difficulty performing outdoors because sunlight's ambient NIR light overwhelms the light emitted by most NIR camera LED projectors, reducing the amount of information the NIR camera can effectively detect. These LEDs would require extremely high power usage in order to project a strong enough light to compete with the sun's irradiance. SparkP2's global shutter allows the NIR light source to be pulsed for extremely short intervals instead of remaining continuously illuminated, thus overcoming sunlight while at the same time capturing movement more accurately and using far less net power.
Pricing and Availability
SparkP2 is sampling in April 2016 with mass production scheduled by summer 2016. Pricing information may be obtained directly from InVisage at
www.invisage.com/contact
.