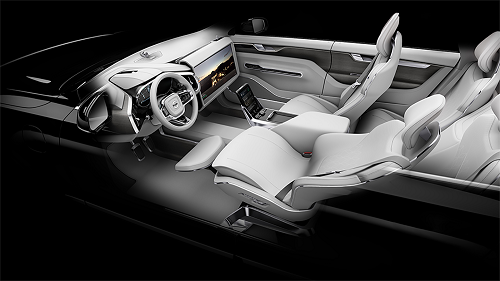 The interior of a Volvo car. Nvidia is powering AI-based self-driving cars for Volvo. Image credit: Nvidia
Volvo Cars and Autoliv have signed an agreement with Nvidia to use the chipmaker's Drive PX artificial intelligence platform for self-driving cars.
The companies will work with Zenuity—a newly formed automotive software joint venture between Volvo and Autoliv—for next-generation autonomous driving technologies that are planned for sale by 2021. The Drive PX platform will be used as the foundation for the software development.
The companies will create systems that can utilize deep learning to recognize objects in their environment, anticipate potential threats and navigate safely.
"Artificial intelligence is the essential tool for solving the incredibly demanding challenge of autonomous driving," says Jensen Huang, founder and CEO of Nvidia. "We are building on our earlier collaboration with Volvo to create production vehicles that will make driving safer, lead to greener cities and reduce congestion on our roads."
Nvidia's Drive PX system enables 360-degree, real-time situational awareness and uses a known high-definition map to plan a safe route and drive precisely along it, adjusting as it goes. The system also performs functions such as stitching camera inputs to create a complete surround-view of the car's environment.
Under the agreement, Zenuity will provide Volvo with self-driving software powered by the Drive PX platform and Autoliv will sell the software to third-party OEMs.