Yesterday, Qualcomm revealed that it has teamed up with AT&T to test drones out on commercial 4G LTE networks in order to determine if they can operate more safely and securely on networks of the future.
The research will look at elements that would affect future drone operations.
The tests will explore facets like coverage, signal, strength and mobility across network cells, and how drones function in flight. The overall goal of the trials and research is to assist future drone operations, such as Beyond Visual Line of Sight, as regulations evolve to permit them.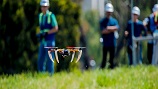 (Image via AT&T/Qualcomm)
For example, the ability to fly beyond an operator's line of view could allow for successful delivery, remote inspection and exploration. Wireless technology can also bring advantages to drones, such as universal coverage, high-speed mobile support and security.
"The trial with a carrier with the reach and technology of AT&T is a significant step in the development of connectivity technologies for small, unmanned aircraft systems (SUAS), including optimization of LTE networks and advancement of 5G technology for drones," said Matt Grob, executive vice president and chief technology officer, Qualcomm Technologies, Inc. "Not only do we aim to analyze wide-scalable LTE optimization for safe, legal commercial SUAS use cases with beyond line-of-sight connectivity, but the results can help inform positive developments in drone regulations and 5G specifications as they pertain to wide-scale deployment of numerous drone use cases."
For drones to carry out helpful tasks like delivery, inspection, and search and rescue, they will need a secure and reliable connection. Chris Penrose, senior vice president, IoT Solutions, AT&T, says that this is where LTE connectivity has the potential to optimize drone flight—transmitting flight clearances, tracking locations and even adjusting routes in near real-time.
"Solving for the connectivity challenges of complex flight operations is an essential first step to enabling how drones will work in the future," said Penrose.
The trials will be based on the Qualcomm® Snapdragon Flight™ drone development platform, which is designed to offer superior control and navigation capabilities. This platform is already in use in some commercial drones and provides sensor processing, precise localization, autonomous visual navigation and 4K videography.
Trials will commence later this month at Qualcomm Technologies' San Diego Campus.