STMicroelectronics has released its second-generation laser-ranging sensor based on its FlightSense branded technology. For the new VL53L0 sensor, the company claims faster ranging, with more accuracy, and over longer distances, significantly improving smart phone- and tablet-camera performance and opening new possibilities and features in robotics, user detection, drones, the Internet of things (IoT) and wearable devices.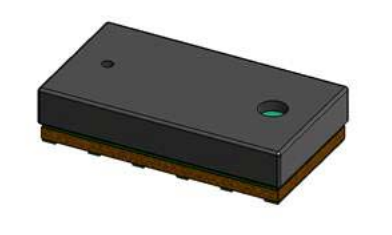 STMicroelectronics' VL53L0 ranging sensor uses the company's FlightSense time-of-flight technology. Image source: STMicroelectronics
ST considers the VL53L0 — measuring 4.4 mm x 2.4 mm x 1mm — to be the smallest time-of-flight (ToF)-based range-sensing module in the world, and the first to integrate a 940nm vertical cavity surface-emitting laser (VCSEL) light source, a single photon avalanche diode (SPAD) photon detector, and a micro-controller to manage the complete ranging function. Using light emitted at 940nm, coupled to infrared filters, the VL53L0 offers high ambient light immunity. The embedded micro-controller and digital algorithms minimize both the host processing and system power consumption in the final application.

The VL53L0 can perform a full measurement operation in one image frame, typically less than 30ms, at distances beyond 2m, independent of target reflectance. Such performance levels, ST says, allow the camera system to achieve instant focus in both video and burst modes, even in low-light or low-contrast scenes, which are especially challenging for camera systems not equipped with the company's FlightSense technology.

High-accuracy distance data supplied by the VL53L0 also enhances smart-phone applications including dual-camera-based depth-mapping and offers opportunities in robotics, user detection, drones, IoT and wearables.

In production and available now, the VL53L0 is priced from $1.75 at the minimum order quantity of 5,000 units.