Electronic devices could run at faster speeds if more transistors could be put on a chip-- but conventional flat transistors are about as small as they can get.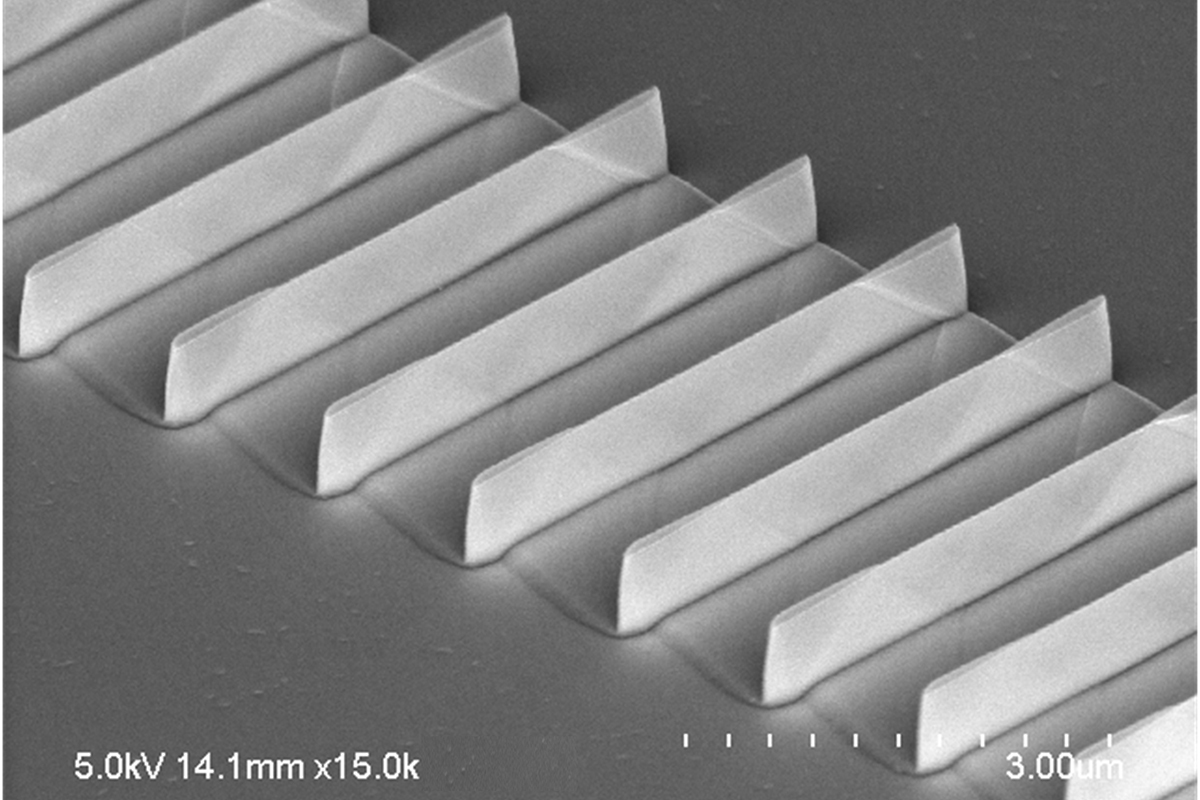 An array of fin transistors made by the MacEtch method. The fins are tall and thin, with a higher aspect ratio and smoother sides than other methods can produce. Source: Yi Song/University of Illinois For University of Illinois researchers, the solution was to go up rather than down. They've developed a way to etch very tall, narrow finFETs, a type of transistor that forms a tall semiconductor "fin" for the electrical current to travel over.
The etching technique addresses many problems in trying to create 3-D devices, typically done now by stacking layers or carving out structures from a thicker semiconductor wafer.
"We are exploring the electronic device roadmap beyond silicon," says Xiuling Li, professor of electrical and computer engineering at the University of Illinois. "With this technology, we're pushing the limit of the vertical space, so we can put more transistors on a chip and get faster speeds. We are making the structures very tall and smooth, with aspect ratios that are impossible for other existing methods to reach, and using a material with better performance than silicon."
As explained by researchers, finFETs are made by bombarding a semiconductor wafer with beams of high-energy ions. But this technique has a number of challenges. One of the biggest problems for high-performance applications is how the ion beam damages the surface of the semiconductor, which can lead to current leakage.
The new approach, called metal-assisted chemical etching, or MacEtch, is a liquid-based method, which is simpler and lower-cost than using ion beams. A metal template is applied to the surface, then a chemical bath etches away the areas around the template, leaving the sides of the fins vertical and smooth. This is important as the interface between the semiconductor and the insulator needs to be smooth and even to ensure consistently high performance.
Researchers use the compound semiconductor indium phosphide with gold as the metal template, but are working to develop a MacEtch method that uses a metal other than gold, since it's not compatible with silicon, which is still the industry standard for semiconductors.
Researchers believe the MacEtch technique could apply to many types of devices or applications that use 3-D semiconductor structures, such as computing memory, batteries, solar cells and LEDs.