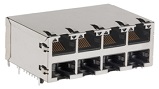 PoE 2 x 2 jack. Source: Molex.
PoE 2.5 GbE Multi-Port Magnetic Modular Jacks from Molex help accomplish that by supporting applications in a broad range of networked applications, including Wi-Fi access-points, IP-enabled security devices, office or home broadband routers, servers, switches, routers, communication peripherals and PoE devices.
Integrated magnetics in the jacks boost signal integrity, isolate DC voltage and provide PHY chip protection via discrete magnetics. Also, the jacks are power device (PD) capable and can supply 30 W to connected devices and systems in various applications. They can also be upgraded to 60 W for broader endpoint support.