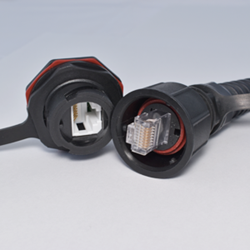 SealJack Ethernet Connection System. Source Heilind Electronics
New applications under the internet of things umbrella have moved outside the typical office environment and into more demanding environmental conditions. These applications require a sealed and reliable cable assembly and jack combination. The IP67-rated SealJackTM rugged Ethernet connection system products from Bel Fuse-Stewart Connector, now in stock at Heilind Electronics, are designed to handle these difficult environments.
The RoHS-compliant SealJack connector is available in both shielded and unshielded configurations and provides reliable connections in the harshest environments. These cable-applied plugs and cable assemblies include an IP67-rated shell and are available for CAT5E and CAT6 applications and facilitate 0/100 BAse-T, 1G Base-T, 2.5G Base-T and 5G Base-T connections.
Uses for the SealJack include a wide range of industrial and harsh environment applications, including military communication, marine equipment, medical devices, test equipment and renewable energy.
Features and Benefits:
Circular bayonet-style coupling facilitates ease of use and consistent sealing
Field termination plug kits include IP67-rated shell, modular RJ45 plug
The cable assemblies can be provided with dual or single IP67-rated plug terminations
Panel-mounted jacks have a punch down block for convenient cable termination
Specifications:
Supports Cat5E and Cat6 applications
Available in shielded and unshielded configurations
Supports 10/100 Base-T, 1G Base-T, 2.5G Base-T and 5G Base-T Ethernet
POE+ and ROHS compliant
Comes with a sealable cap to ensure protection from outside elements for IP67 applications per IEC 60529 specifications when not in use