Mouser Electronics, Inc. is now stocking the Thread-ready 
Digi
 XBee® S2D ZigBee modules. These embedded 
radio frequency
 (RF) wireless modules provide engineers with a simple migration path to quickly and easily incorporate into board designs. The Thread protocol is a low-power, IPv6-addressable, self-healing 
mesh
 network with advanced security implemented at the networking layer. The protocol provides secure, distributed short-range RF networks for the 
Internet of Things
 (IoT) market and connected products for wireless 
industrial
 applications.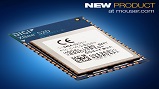 Digi XBee S2D ZigBee Thread-ready modules
are based on the same specifications as Digi's current 802.15.4-based Series 2 Digi XBee hardware and will feature a 
Silicon Labs EM3587
 system-on-chip (SoC) with 512 kBytes of flash and 64 kBytes of RAM, allowing for full implementation of the full Thread protocol for end nodes and routers, when released in 2017. The module's SPI provides a high-speed interface and optimizes integration with embedded microcontrollers, lowering development costs and reducing time to market.
The Digi XBee S2D modules provide transmit power of 3.1mW (6.3mW in boost mode) to offer an indoor transmit range of up to 200 feet and an outdoor, line-of-site range of up to 4,000 feet — all packed into the Digi XBee surface mount footprint and secured by 128-bit AES encryption. Engineers can easily switch to other frequencies or protocols because the modules adhere to the same surface mount footprint as other Digi XBee modules and feature the interoperability of the ZigBee standard.
The modules are supported by the 
Digi XKB2-Z7T-WTZM XBee S2D ZigBee Thread-Ready Mesh Kit
, which includes three Digi XBee S2D ZigBee modules, micro-USB cables, and Digi XBee development boards that can be used with the modular Seeed Studio Grove system, which provides interconnect capabilities. The kit is designed for anyone interested in getting started in the world of ZigBee, while making it easy to quickly learn more about ZigBee technology through hands-on examples in the kit.