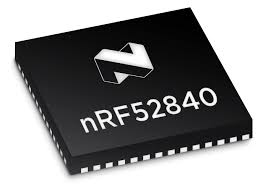 Source: Nordic Semiconductor
Mouser Electronics, Inc. is now stocking the nRF52840 multi-protocol system-on-chip (SoC) from Nordic Semiconductor. The ultra-low power RF52840 SoC offers single-chip solutions with simultaneous Bluetooth 5 and Thread support.
The Nordic nRF52840 SoC builds on the architecture of Nordic's existing nRF52 Series of SoCs to support complex Bluetooth low energy and other low-power wireless applications. The nRF52840 SoC employs a 64MHz, 32-bit Arm Cortex-M4F processor, plus a CPU with 1 Mbyte of flash and 256 Kbytes of RAM, floating point unit, and digital signal processor (DSP) performance. The SoC also incorporates Arm TrustZone CryptoCell-310 cryptographic accelerator.
The nRF52840 SoC complies with the Bluetooth 5 specification and increased maximum output power. In addition to Bluetooth 5 support, the nRF52840 SoC includes NFC-A tag support plus IEEE 802.15.4 capabilities for Zigbee- and Thread-based smart home technologies or as a Network Adaptation Layer with 6LoWPAN and standard internet protocols.
The SoC is supported by the Nordic nRF52840 Preview Development Kit, including an onboard nRF52840 SoC and four user-programmable buttons and LEDs. It is hardware compatible with the Arduino Uno R3-based shields, and features connector pins for all inputs and outputs (I/O) and interfaces.
Learn more about the new device by visiting Mouser.