Researchers from the Technical University of Munich (TUM) are working on a new helmet-mounted display that can one day help pilots detect flight hazards in their early stages. The team implemented augmented reality technology to help pilots even when they experience impaired visibility.
The information required to make this happen is created in an on-board computer and imported into a pair of digital eye glasses. According to the team, a new study has shown that this augmented reality can actually improve pilots' performance.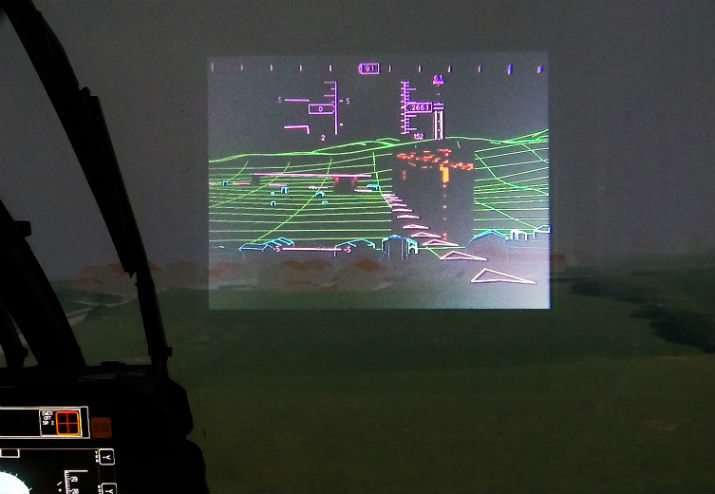 Testing out the new head-mounted display in the research simulator. (Image Credit: TUM Fotostelle)
"Our goal is to increase safety for pilots using augmented reality," said Franz Viertler, lead researcher on the project.
Viertler, along with colleagues at the Institute of Helicopter Technology, has developed software that combines terrain information with sensor readings that can be taken during a flight. Light Detection and Ranging, LIDAR, has been useful since the measuring instruments attached to the helicopter's skids emit radiation in the micrometer range and detect the waves reflected by hazards or obstacles.
How it works
All of the data is processed on-board and projected directly to the head-mounted display, allowing the pilot to not only see with his own eyes, but also retrieve the digital outlines of the landscape and potential obstacles. Pilots also have access to flight data, like speed, altitude, position and course, directly on their display. The team also implemented a head-tracking system to make sure that the projections adjust to the pilot's line of sight, depending on whether he is looking forward, downward or out the side of the cockpit.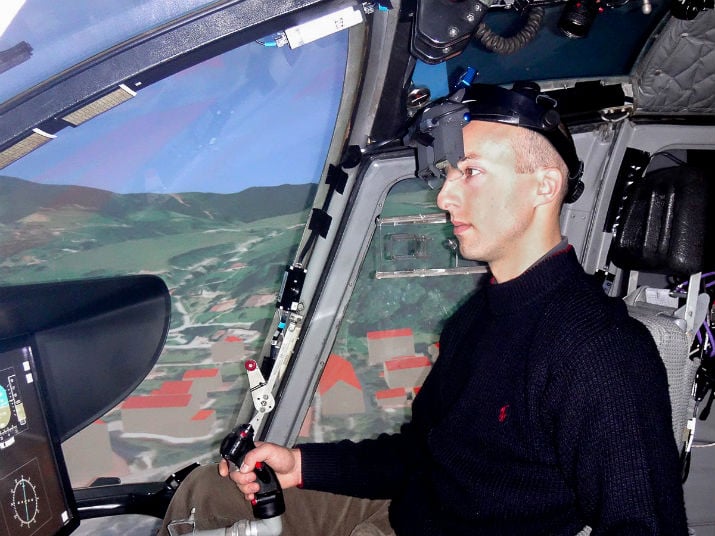 In the research simulator at the TUM's Institute of Helicopter Technology, the scientists analyze how augmented reality can improve the performance of pilots. (Image Credit: TUM Mitarbeiter)
TUM researchers conducted a study with 16 professional helicopter pilots to see if their system would actually benefit pilots. They tested the new head-mounted display on various simulator flights.
The team found that the pilots not only flew more quickly and more safely than without the head-mounted display, but that the flights had been less demanding both physically and mentally.
According to Viertler, "the new technology can reduce the risk when helicopters are operated."
"The main problem is poor visibility caused by clouds or snow, or dust blown up when taking off and landing. Augmented reality can help to overcome this white-out or brown-out phenomenon," he said.
Admittedly, it may be a while before pilots can use the technology on a day-to-day basis, but the industry is already showing great interest.