China is officially operating the first system in the world that has a peak performance of over 100 PFlops.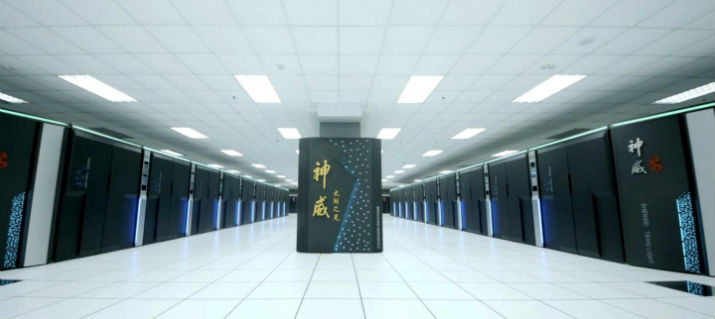 The Sunway TaihuLight Supercomputer. (Image Credit: Science China Press) The Sunway TaihuLight Supercomputer is a completely homegrown supercomputer that is being run by the National Supercomputing Center in Wuxi (NSCC-Wuxi).
Because it is the world's fastest supercomputer, it is contributing to research fields such as earth system modeling, ocean surface wave modeling, atomistic simulation and phase-field simulation. Three of its applications have managed to scale to the full system, and have even been nominated as finalists for the Gordon Bell award of 2016—the highest honor in the high-performance computing applications field.
The peak performance of the Sunway TaihuLight is 125 Pflops; the Linpack performance is 93 PFlops; and the performance per watt is 6.05 GFlops/W.
One of the computer's major tech breakthroughs is the homegrown SW26010 many-core processor, which includes four management processing elements (MPEs) and 256 computing processing elements (CPEs), and provides a peak performance of over 3.06 TFlops.
Supercomputers' origins date back to the 1970s, and scientific computing has become a major scientific standard. The computations conducted by a supercomputer have been applied to various scientific domains, such as climate modeling, earth subsurface modeling and inversion, sky simulation, and phase-field simulation. As science advances, scientists need to simulate even more complex models, and the temporal and spatial resolutions they require are also increasing rapidly. All of these factors contribute to the demand for greater computing power.
The Sunway TaihuLight has already provided computational support to research universities and institutes in China, such as Tsinghua University, Beijing Normal University, Chinese Academy of Sciences and the First Institute of Oceanography.
An introduction to the TaihuLight system, entitled "The Sunway TaihuLight Supercomputer: System and Applications," provides a detailed illustration of the Sunway TaihuLight supercomputer and its subsystems. These subsystems include the software system, the hardware system, the power system, the architecture of the new SW26010 many-core processor, as well as applications.