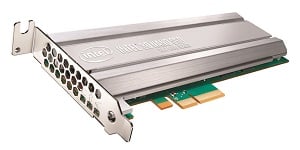 The DC P4600 SSD. Image credit: Intel
Intel Corp. has introduced two new 3-D NAND solid state drives (SSDs) for data centers that were designed specifically with cloud storage in mind.
The SSD DC P4500 and SSD DC P4600 SSDs feature software defined storage and a converged infrastructure along with Intel's triple level cell (TLC) 3-D NAND flash, PCIe/NVMe and firmware innovations. The SSD DC P4500 is optimized for reads and enables data centers to get more value out of the services and store more data, Intel says. The SSD DC P4600 accelerates caching and enables more workloads per server.
In order to meet demand for 3-D NAND supply, Intel says it is expanding its Fab 68 in Dalian, China. Intel began the transition to flash memory in Fab 68 back in October of 2015 when it invested in the facility and converted it to produce 3-D NAND.