The OA11/22 dual-channel phase control unit allows users to control fan speed for single or multiple AC fan assemblies. The control unit is
suited for medical, industrial, networking and telecom applications.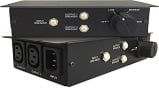 OA11/22 fan speed controller. Source: Orion
Designed for use with any fan or fan tray, the controller can run at low, medium, or high speeds and operates on 120/220 VAC. It comes with a 2 A input/output circuit breaker.
Pricing starts at $162.50 in small quantities.