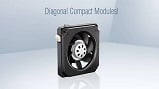 Diagonal compact fan modules from ebm Papst were developed to dissipate thermal loads in control cabinets while working as efficiently and quietly as possible. Available options include AC 115 V 60 Hz and 230 V 50 Hz, as well as a GreenTech EC motor for 115 V and 230 V operation.
Compared to tubeaxial fans, the fan modules consume up to 49% less power and provide up to 50% better air performance in nominal operation. The modules also provide up to a 7 Dba sound reduction. The EC version achieves even better heat dissipation and offers greater energy savings, thanks to demand-based airflow from speed control with 0–10 V control voltage.
The module's external rotor makes the unit externally compact with a very shallow installation depth. Optional grill guards are available for the outlet and intake side.