Designed for insertion into audio lines, the MAF1608G noise suppression filter from TDK Corporation filter keeps THD+N of the audio signals to very low levels. At the same time, the miniature component (1.6 mm x 0.8 mm x 0.8 mm) features a high rated current of 1.6 A and a low DC resistance of 0.06 Ω. This makes the MAF1608G noise suppression filter optimally suited for use in speaker lines where high currents are required.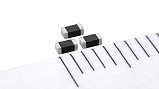 TDK MAF1608G noise suppression filter. Source: TDK
These applications include earphones, speakers and microphones in devices like smartphones, tablet PCs and portable game consoles. The component's high attenuation ensures effective noise suppression in audio applications.

By utilizing a ferrite material with a low distortion factor, TDK was able to reduce sound quality degradation to a level equal to that of a line without a noise filter. This makes it possible to implement noise protection while still extracting the full performance potential of the audio amplifier.