The MAF1005G noise suppression filter from TDK Corporation comes in three new types measuring just 1.0 mm x 0.5 mm x 0.5 mm. The miniaturized audio line filter features a high attenuation of cellular bands from 700 MHz to 2.5 GHz and can suppress the spurious emissions from these bands by up to 50 dB.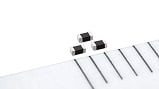 The MAF1005G noise suppression filter. Source: TDK
Moreover the filter limits the THD+N of the audio signals to the very low levels, just like the MAF1608G, which was introduced in May 2016. As a result, the MAF1005G filters cause no sound quality degradation in audio lines. Thanks to their small size and high attenuation performance, they are suited for noise suppression in audio lines (earphones, speakers, microphones) of devices such as smartphones, tablets and portable game consoles.
Based on an optimized product design that utilizes a ferrite material with a low distortion factor, TDK was able to reduce sound quality degradation to a level equal to that of a line without a noise filter. This makes it possible to implement noise protection while still extracting the full performance potential of the audio amplifier.