While it might not prove to be the next industrial revolution, the Maker Movement has provided some important lessons for engineers on how to innovate and what it will mean to be an engineer in the future, so says Kipp Bradford, Research Scientist, MIT Media Lab.
And the model for all this? A massively successful platform that was once ridiculed as being a toy for "pot-smoking art students who wanted to pretend they were designers."
Bradford expressed his views during his opening keynote for this week's ESC Boston, and he is eminently qualified to speak on the topic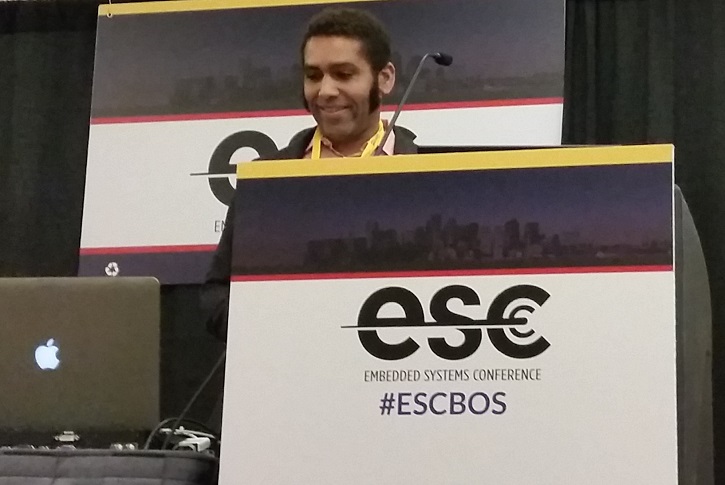 Kipp Bradford used ESC Boston to discuss how Frictionless Frameworks are one of the key learnings from the Maker Movement, and are critical to enabling the next generation of engineers and designers.. An avid fan and organizer of the Maker Movement, he organizes his local Maker Faire in Rhode Island, has his own track record as a prolific high-tech innovator, holds numerous patents, has founded start-ups in the fields of transportation, consumer products, HVAC, and medical devices, and is a published author.
He has also counseled Intel and Google on how to make innovation easier, using the principles of the Maker Movement that he has both observed and applied himself. In the case of Intel, his advice to then-new CEO Brian Krzanich had almost nothing to do with making better chips, and instead had everything to do with making better tools to make its chips easier to use.
"The goal of every CEO is to predict future, but no one can or ever will," he said in his opening comments. "So instead try and understand what the future will be and create technologies to enable that." A bit of science fiction may be required, and he pointed to the likes of Star Trek and other movies as examples of the big question: "What if… ?"
The trick is to imagine the future we want, then develop the technologies to get us there. However, "Creating the future will not be achieved by pushing the limits of science and technology," instead engineers and innovators should flip the classic design and production cycle on its head. Instead of endless discussions on what to and how to do it, just do what makers do: "They build what they like, show it off, and if people like it, then maybe there's a market."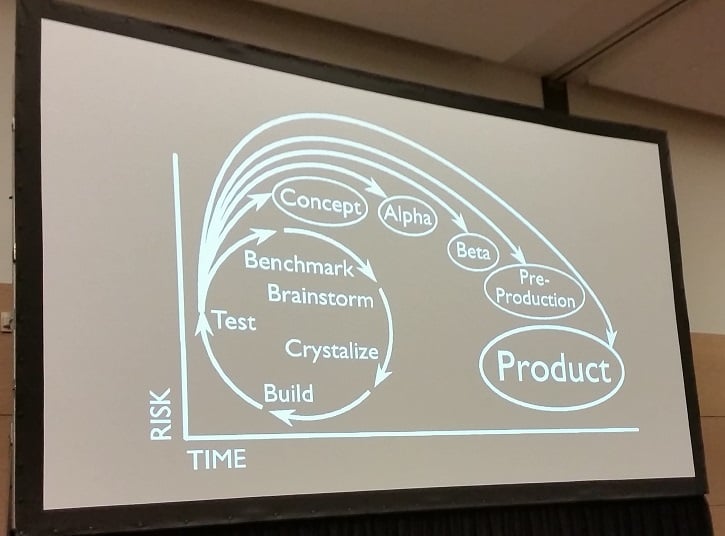 Classic product design involves endless cycles of discussion and brainstorming before anything is done, followed by concept alpha and beta test and pre-production runs. While aware of the challenges of real-world design, especially for mission-critical applications, Bradford advocate d for a more rapid build-what-you-like approach.
He also pointed to a fundamental thinking process behind Makers, "We can do this today, wouldn't it be awesome if tomorrow we could create something new?" That said, Bradford is aware of the challenges of standards, functional safety and legal implications of some designs, but advocated for a more rapid cycle, enabled by better tools, which can be a time sink.
Practical advice for Intel, and everyone else
While the overall sounds very nice, few things get as real as counseling the likes of Brian Krzanich, Intel's CEO. At the time, Krzanich was new in his role and MediaTek dominated the Chinese market. "I told him, 'If you want to dominate the Chinese market, the key is not making better chips, but to make better tools.'"
MediaTek had a much better design environment, and that was critical to the fundamental success of the company, and was also a key takeaway from the Maker Movement: the concept of Frictionless Frameworks.
This move toward Frictionless Frameworks requires a change in thinking. "If technology is made easy, we can do more with it," he said, and this doesn't just apply to Makers. "Engineers want easy tools too."
As an aside, this is a fact that has been proven over and over again in numerous studies of embedded developers regarding the question of which is more important: the MCU or the development environment. Year after year, study after study, the environment has increasingly become the deciding factor, for both time to market (ease of use) and scalability.
"Good tools melt into the background and allow us to express ourselves in new forms," said Bradford. "They give us superpowers as engineers and designers." Altium, SolidWorks and GCC, "Are somewhat intuitive and getting better every day as everyone is contributing to it."
The easier the tools are to use, the more engineers will be inclined to use them, so Bradford introduced an interesting new metric to measure how easy they are: Mean Time to Blink. A play on the classic metric Mean Time Between Failures (MTBF), it refers to the time taken to get an LED on a design kit to blink.
He also laid out four ways to ensure a tool or framework is frictionless:
· Intuitive: "If you can't explain to a 2 year old in 10 min, it's not frictionless."
· Low barrier to entry: "It has to download quickly not a multi-gigabit download.
· Accessible: Implement a staged process for access, with different levels, "Don't make them pay $10K to flash an LED."
· Adequate headroom: it needs to be able do something useful after initial setup. "Blink an LED and that's it? Tell me when you have something useful."
Bradford also introduced the metric of Mean Time To Abandonment, referring to the time he spent a week trying to get an LED to blink on an FPGA board. That's not a good reflection on the tool, given his smarts.
The ultimate symbol of all this is the Arduino, of course. Bradford pointed out how it was once ridiculed by engineers as being something for, "pot-smoking art students who wanted to pretend they were designers." Now it's the model for the next level of design and engineering enablement.
Bradford related how a sensor project that required 600,000 devices be designed and shipped to Google in three weeks for a sensor project was successful because he turned to Arduino.