Researchers from the University of Illinois at Urbana-Champaign have now demonstrated that it is possible to transmit real-time video-rate data through tissue. The team sent signals through store-bought pork loin and beef liver to display that in-body ultrasonic communications with implanted medical devices is possible.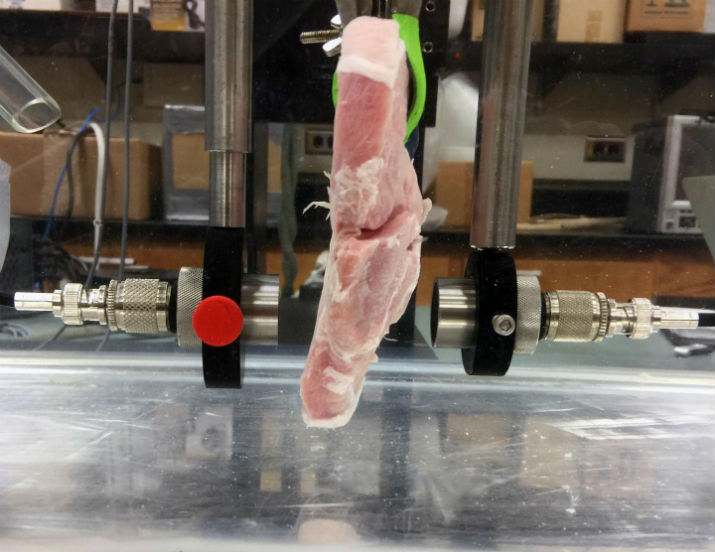 "You can imagine a device that is swallowed for the purposes of imaging the digestive tract but with the capability for the HD video to be continuously streamed live to an external screen and the orientation of the device controlled wirelessly and externally by the physician. This may seem like science fiction today, but at the root of science fiction are questions about what is possible. We wanted to show that it was possible, and engineering is about always reaching toward that adjacent possible," said Andrew Singer, the Fox Family Professor in the Department of Electrical and Computer Engineering at Illinois.
The researchers showed that improved signal processing techniques can provide high data rates with low error rates through tissues at frequencies that would allow them to spread through the body.
"To our knowledge, this is the first time anyone has ever sent such high data rates through animal tissue," said Singer. "These data rates are sufficient to allow real-time streaming of high-definition video, enough to watch Netflix, for example, and to operate and control small devices within the body."
Currently, cardiac patients make up the largest group of patients that use wireless implanted devices, such as pacemakers, but the applications are growing to include devices like intracranial pressure sensors, epilepsy control sensors and ingestible cameras for imaging the digestive track.
Implanted medical devices typically use a sensor transmission that has low peak power and low duty cycle to reduce the possible negative effects, as well as to extend battery life. Other devices are equipped with small rechargeable batteries that are powered wirelessly by converting energy from a transmitted signal from an external device into electro-chemical storage.
According to the University of Illinois, most implanted medical devices use RF electromagnetic waves to communicate through the body, whose bandwidths are regulated by The Federal Communications Commission (FCC). These regulations often limit the efficiency and use of the device.
"For underwater applications, radio-frequency (RF) electromagnetic communications has long since been supplanted by acoustic communication," said Singer. "Acoustic or ultrasonic communication is the preferred communication means underwater because sound (pressure) waves exhibit dramatically lower losses than RF and can propagate tremendous distances for signals of modest bandwidth."
Another major limitation on these implanted devices when using RF electromagnetic waves is loss of signal that occurs because of weakening in the body, such as losses in soft tissue.
For now, the researchers know that this kind of data transmission is now possible, but will need to explore the possibility of adverse effects when using radiation of electromagnetic waves in the body.