Researchers at the University of Illinois at Urbana-Champaign are sharing a newly created recipe to build a class of walking bio-bots powered by muscle cells and controlled with electrical and optical pulses.
The protocol is intended to be a one-stop reference for scientists looking to build their own version of bio-bots for a variety of applications by 3-D printing the skeleton and tissue engineering the skeletal muscle actuator. The recipe also includes manufacturers and part numbers for every single object used in the lab to create the device.
Researchers say biological machines have the potential to dynamically sense, process, respond and adapt to environmental signals in real time. This could lead to systems that could one day demonstrate complex behaviors including self-assembly, self-organization, self-healing and adaptation of composition.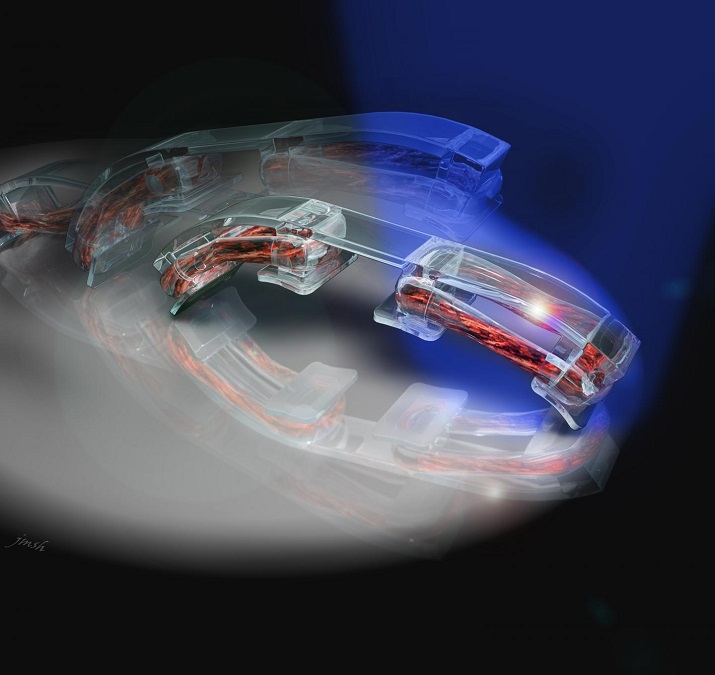 Engineered skeletal muscle tissue is coupled to a 3-D-printed flexible skeleton and uses optical stimulation of the muscle tissue to make the bio-bot walk across a surface. Source: University of Illinois The goal is provide other researchers and educators the tools and knowledge to build these bio-hybrid systems and attempt to address challenges in the health, medicine and environmental markets. The recipes and protocols allow others duplicate the work down by the University and help accelerate the idea of "building with biology."
"The 3-D printing revolution has given us the tools required to 'build with biology' in this way," said Ritu Raman, a postdoctoral fellow in the Department of Engineering at the University of Illinois at Urbana-Champaign. "We re-designed the 3-D-printed injection mold to produce skeletal muscle 'rings' that could be manually transferred to any of a wide variety of bio-bot skeletons. These rings were shown to produce passive and active tension forces similar to those generated by muscle strips."
The bio-bot uses optogenetics to create a light-responsive skeletal muscle cell line that is stimulated to contract by pulses of 470nm blue light. The resultant optogentic muscle rings were coupled to multi-legged bio-bot skeletons with symmetric geometric designs. Through this light stimuli the bio-bot can be directed and steered to walk.