Researchers at the Stanford School of Engineering have developed wirelessly-recharging, programmable chips that can be embedded inside the human body. The medical chips, some the size of a grain of rice, are recharged by a wireless system created by Professor Ada Poon, an assistant professor of electrical engineering. The invention will pave the way for the development of new "electroceutical" devices. Bioelectronics have a limited lifespan because miniaturizing power sources remains a big challenge. Professor Poon uses the same technology as cell phones to transmit electrical energy inside the body to power devices such as pacemakers, cochlear implants and other devices yet to be developed.
The invention was reported in the Proceedings of the National Academy of Sciences on May 19, 2014 as the culmination of many years of effort. According to Professor Poon "the technology could provide a path toward a new type of medicine that allows physicians to treat diseases with electronics rather than drugs. We need to make these devices as small as possible to more easily implant them deep in the body and create new ways to treat illness and alleviate pain."
The researchers at her lab created a miniscule pacemaker that can be recharged wirelessly with a power source smaller than a credit card, with power output similar to that of a smart phone. The pacemaker was implanted in a rabbit, but Poon is preparing to test the system in humans.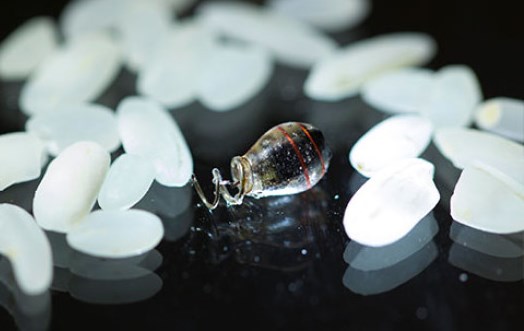 A batteryless electrostimulator next to medical pills for size comparison. The new powering method allows the device to be wirelessly powered deep inside body, in locations such as the heart or brain. (Photo: Austin Yee)
Wireless power has been developed for devices inside the body, but most of the sources can't transfer power beyond depths close to the skin, making them unable to power micro-implant devices that would reside deeper. The team at Professor Poon's lab showed that deeper penetration can be achieved with a method they call midfield wireless transfer, a method that controls the way electromagnetic waves behave inside the body through the use of a patterned metal plate to focus them.
It is well known that RF energy travels in different ways when traversing different materials. Based on this principle, Poon's team designed a power source that generates focused near-field RF energy, which, when moving from air to skin, propagates deeper into the body.