A tangle of wires is usually needed to track the vital statistics of premature babies. This cumbersome clutch of hard-wired sensors may soon give way to a less invasive monitoring method more conducive to parent-child interaction.
Two thin, wireless sensors synthesized with flexible and biocompatible silicone with embedded electronics were devised by an international research team. The wireless design provides an opportunity for the skin-to-skin contact deemed essential for premature infant well-being and reduces equipment and maintenance burdens for caregivers. One sensor is placed on the patient's chest or back and the other wraps around a foot. Heart rate, respiration rate and other parameters are monitored from opposite ends of the body, and the data are transmitted from a unit beneath the mattress to the nurses' station.
The system also measures blood pressure by tracking how much time elapses between an individual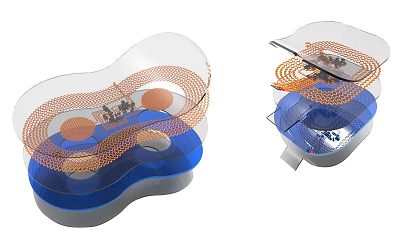 The chest sensor (left) and the foot sensor (right). Both sensors weigh as much as a raindrop and are reusable. Source: Northwestern Universityheartbeat and the corresponding pulse arriving at the foot. Traditional measurement methods for this population rely on wrist cuffs, which can cause bruising, or a catheter inserted into an artery.
Tests conducted with 70 patients in newborn intensive care units compared the performance of the wireless patch and traditional monitoring systems. The study, published in Science, showed that the paper-thin devices generated data as precise and accurate as the conventional equipment and can be worn during X-rays, MRIs and CT scans.
The researchers expect to send sensors to tens of thousands of families in developing countries over the next year as part of an international project, and to introduce the devices to U.S. hospitals within three years.
Contributing researchers represent Northwestern University, University of Illinois at Urbana-Champaign, Ann & Robert H. Lurie Children's Hospital of Chicago, Kyung Hee University (South Korea), Shanghai Jiao Tong University (China), A*Star (Singapore), Southeast University (China), Tsinghua University (China), Daegu Gyeongbuk Institute of Science and Technology (South Korea), Kwangwoon University (South Korea), Kookmin University (South Korea) and Purdue University.