The Defense Advanced Research Projects Agency (DARPA) has officially christened its newest ship—the Anti-Submarine Warfare (ASW) Continuous Trail Unmanned Vessel (ACTUV).
The christening included the traditional breaking of a ceremonial bottle over the bow by DARPA Director Arati Prabhakar and represents the beginning of an entirely new class of ocean-going vessel capable of traveling thousands of miles for a month at a time without any crew members.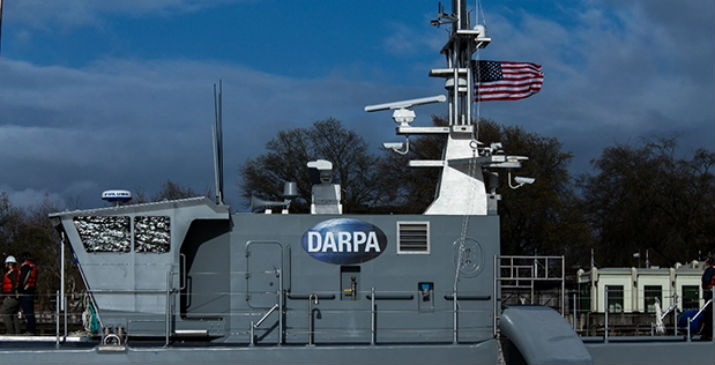 The christening took place in Portland, Oregon, and marks successes in a program that seeks to develop an entirely new class of ocean-going vessel. (Image Credit: DARPA)
The agency designed the ship with potential missions in mind, such as submarine tracking and countermine activities.
"Although ACTUV will sail unmanned, its story is entirely about people," said Scott Littlefield, DARPA program manager. "It will still be sailors who are deciding how, when and where to use this new capability and the technology that has made it possible. And we could not have overcome the massive technical challenges to reaching this point without the creative, committed teamwork of our commercial partners and the Office of Naval Research."
ACTUV is a 130-foot twin-screw trimaran that can withstand all kinds of weather conditions and even comes equipped with some unusual features that are possible because it does not need to accommodate humans. For example, interior spaces are accessible for maintenance but aren't designed to support a permanent crew.
ACTUV also displays many breakthroughs in autonomous navigational capabilities such as advanced software and hardware that serve as automated lookouts, enabling the ship to operate safely near manned maritime vessels in all weather and traffic conditions, and at any time of day.
The vessel will operate with the guidance of a remote supervisor, but mainly will act autonomously. According to DARPA, "it would operate at a fraction of the cost of manned vessels that are today deployed for similar missions."
DARPA will collaborate with the Office of Naval Research to further test the ship's capabilities and different kinds of payloads this summer off the California coast after preliminary checkout and movement to San Diego.