Allegro MicroSystems, LLC has unveiled two current sensor ICs for AC or DC current sensing. These devices are ideal for use in industrial, commercial, and communication systems that require very high voltage isolation.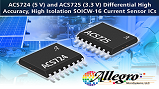 ACS724KMA current sensor. Source: AllegroBoth the ACS724KMA (5 V) and the ACS725KMA (3.3 V) come in an SOIC16 wide body surface mount package that is ideal for space-constrained applications. The differential sensing technology provides immunity to interfering common mode magnetic fields from adjacent current traces or motors. Typical applications include motor control, load detection and management, switched-mode power supplies, and overcurrent fault protection.

Both devices consist of a precise, low-offset, linear Hall sensor circuit with a copper conduction path located near the surface of the die. Applied current flowing through this copper conduction path generates a magnetic field which is sensed by the integrated Hall IC and converted into a proportional voltage. The current is sensed differentially in order to reject common-mode fields, improving accuracy in magnetically noisy environments. The inherent device accuracy is optimized through the close proximity of the magnetic field to the Hall transducer.

A precise, proportional voltage is provided by the low-offset, chopper-stabilized BiCMOS Hall IC, which includes Allegro's patented digital temperature compensation, resulting in extremely accurate performance over temperature. The output of the device has a positive slope when an increasing current flows through the primary copper conduction path (from pins 1 through 4, to pins 5 through 8), which is the path used for current sensing. The internal resistance of this conductive path is 0.85 mΩ typical, providing low power loss.

The ACS724KMA and ACS725KMA are priced at $2.24 in quantities of 1,000.