Allegro MicroSystems, LLC has introduced a 1 MHz bandwidth Hall-effect current sensor IC with a fast 210 ns response time. The ACS730 provides an economical and precise solution for AC or DC current sensing. The sensor targets industrial, commercial and communications systems. Typical applications include motor control, load detection and management, switched-mode power supplies, and overcurrent fault protection.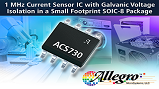 ACS730 Hall-effect current sensor IC. Source: Allegro MicrosystemsThe device comprises a precise, low-offset, linear Hall sensor circuit with a copper conduction path located near the surface of the die. Applied current flowing through this copper conduction path generates a magnetic field, which is sensed by the integrated Hall IC and converted into a proportional voltage. A precise, proportional voltage is provided by the Hall IC, which is programmed for accuracy after packaging.
The internal resistance of the conductive path is typically 1.2 mΩ, providing low power loss. The terminals of the conductive path are electrically isolated from the sensor leads (pins 5 through 8). This allows the ACS730 current sensor IC to be used in high-side current sense applications without the use of high-side differential amplifiers or other costly isolation techniques.
The ACS730 comes in a low-profile surface-mount SOIC-8 package with a matte-tin leadframe that is compatible with standard lead-free printed circuit board assembly processes. The device is fully calibrated prior to shipment from the factory.
The ACS730 is priced at $1.77 in quantities of 1,000.