Allegro MicroSystems, LLC announces a field programmable linear Hall-effect current sensor IC with a 240 kHz bandwidth, integrated vo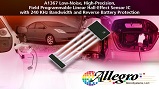 The A1367 programmable linear Hall-effect current sensor IC. Source: Allegroltage regulator, reverse battery protection, user-selectable ratiometry, and uni- or bi-directional output options. High accuracy is achieved through proprietary linearly interpolated temperature compensation technology that is programmed at the Allegro factory and provides sensitivity and offset that are virtually flat across the full operating temperature range.
The A1367 Hall-effect sensor is suited for automotive applications, especially HEV inverter, DC-DC converter and electric power steering applications. This ratiometric Hall-effect sensor IC provides a voltage output that is proportional to the applied magnetic field. Ratiometry can be disabled if immunity to Vcc fluctuations is desired.

The user can configure the sensitivity and quiescent (zero field) output voltage through programming on the VCC and output pins, to optimize performance in the end application. The quiescent output voltage is user-adjustable, around 50% (bi-directional configuration) or 10% (uni-directional configuration) of the supply voltage and VCC. The output sensitivity is adjustable within the range of 0.6 to 6.4 mV/G.

Broken ground wire detection, user-selectable output voltage clamps and the ability to survive +/–15V on the VCC pin (reverse battery protection) are built into the device. Device parameters are specified across an extended ambient temperature range: –40° C to 150° C. The A1367 sensor IC comes in a thin case (1 mm thick), four-pin SIP (single in-line package, suffix KT) that is lead-free, with 100% matte-tin leadframe plating.
The sensor is priced at $1.68 in quantities of 1,000.