Advantech B+B SmartWorx, which offers Intelligent Industrial Network Connectivity capabilities, has signed a distribution agreement with Future Electronics to sell B+B SmartWorx branded products in the Americas.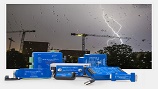 Under the agreement, Future will leverage its dedicated wireless and RF business unit, Future Connectivity Solutions, to promote B+B SmartWorx's industrial cellular routers and gateways, and the Wizzard Wireless Sensing Platform.  B+B SmartWorx's intelligent networking products can host application software and primarily support customers in remote or demanding environments.
This distribution agreement allows Advantech B+B SmartWorx to leverage Future's extensive field engineering resources and world class physical distribution capabilities.  "We believe that B+B's product offering, with its flexible modular design and scripting options will provide our dedicated wireless sales managers and engineers a wide range of application options and support for our customer base," said Matthew Rotholz, vice president of marketing, Future Connectivity Solutions, in a statement.
Kelly-Anne Murphy, director of marketing for Future Connectivity Solutions, added, "Our dedicated business unit is focused on providing a high level of support and services in the connectivity space. This includes a wide range of product support, demo and development support and system software support.  All designed to help customers accelerate their time to market."