Advantech has unveiled its compact, energy-efficient MIC-710AIX and MIC-710IVX industrial computers that leverage the powerful new NVIDIA Jetson Xavier NX, expanding its range of edge artificial intelligence (AI) systems built on the Jetson platform for smart city, intelligent manufacturing and AI of things applications. The MIC-710AIX is designed to withstand shock and vibrations in industrial environments with temperatures ranging from -10° C to 60° C, making it ideal for ruggedized compute-intensive embedded AI applications at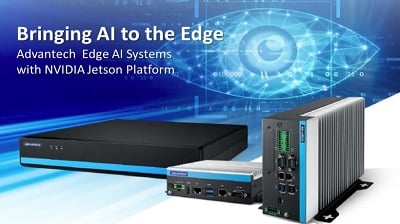 Source: Advantechthe edge. The MIC-710IVX AI NVR systems enable eight-channel IP camera video analytics for smart city applications.
To meet customer needs and edge computing challenges in an array of vertical applications, Advantech provides a range of MIC-AI series products in two form factors: AI IPC and AI NVR. Advantech AI IPC is a passively cooled system design embedded with the full line up of Jetson SOMs — including the new Jetson Xavier NX, Jetson AGX Xavier, Jetson Nano and Jetson TX2. These systems enable AI applications in harsh environments — like road-side deployment or on manufacturing production lines. AI IPC supports flexible industrial I/O interfaces for data acquisition and communication, such as installing add-on cards like frame grabbers and wired/wireless modules to meet different application needs.
Advantech also offers the MIC-710IVA and MIC-730IVA AI NVR systems with the Jetson Nano and Jetson AGX Xavier modules for AI computing in traditional video monitoring systems. The eight channel power over Ethernet and internal two times 3.5 in HDD design enables eight channel IP camera video analytics for smart city applications such as traffic monitoring, security, retail, logistics and more.
As a NVIDIA Elite Partner, Advantech provides industrial systems powered by the Jetson platform along with flexible industrial I/O support and remote device management to facilitate AI deployment at the edge for various applications. The new Jetson Xavier NX with 384 CUDA cores, 48 Tensor Cores, and cloud-native capability is the ideal platform to accelerate AI applications. Bundled with the latest NVIDIA Jetpack 4.4 SDK and smaller than a credit card (70 mm x 45 mm), the energy-efficient module delivers server-class performance — up to 21 TOPS at 15 W, or 14 TOPS at 10 W. This opens the door for embedded edge-computing devices that demand increased performance to support AI workloads but are constrained by size, weight, power budget or cost.