Most people feel that riding a roller coaster is already an adrenaline-inducing experience. But what if you could ramp up the excitement by transforming your surroundings to create an even more pulse-racing – potentially interactive -- environment? A partnership between Samsung Electronics America, Inc. and Six Flags Entertainment Corporation, a theme park company with more than 18 parks across the United States, Mexico and Canada, makes that possible.

Six Flags has named Samsung its "Official Technology Partner." What does that mean to park-goers? For starters, beginning this month and continuing through summer 2016, Six Flags will roll out North America's first Virtual Reality (VR) Roller Coasters, using Samsung Gear VR powered by Oculus.
The virtual experience will place the "heart-pumping adrenaline steep drops, inverted loops and powerful twists and turns" on nine new Six Flags coasters into a realistic, 360-degree, virtual world, according to joint press release issued by the companies. Gyros, accelerometers, and proximity sensors gauge the roller coasters' motion, speed and position to synchronize with the immersive images in the headsets to produce a one-of-a-kind sensorial experience, says Marc Mathieu, chief marketing officer at Samsung Electronics America. Users will need Samsung Gear VR headsets, compatible with Samsung Galaxy S7, Galaxy S7 edge, Galaxy S6, S6 edge, S6 edge+ and Note5, to enjoy the immersive experience on each device's super AMOLED display.

Six Flags and Samsung will launch the VR Roller Coasters with two different themes, beginning this month and into the summer.
A New Revolution in Roller Coasters
Six New Revolution Virtual Reality Coasters offer enthusiasts an in-depth storyline and on-ride interactive gameplay – the first ever such technology on a coaster, according to the developers.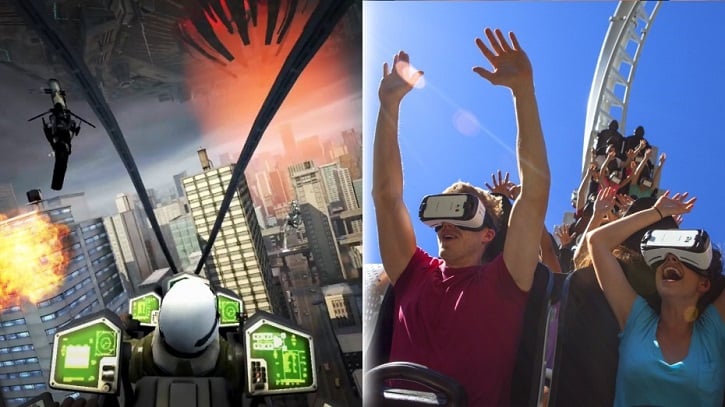 Take your coaster experience to the next level with Virtual Reality.

According to the release, the rides take park-goers to a futuristic battle to save planet earth from an alien invasion. Riders are the co-pilots in their own fighter jets as they strap in for air-to-air combat, side-by-side with other riders. The aircraft and coaster cars move up through an underground secret bunker to a landing pad and then rise up through the roof of the building.

Riders have the chance to test fire their weapons on the ascent, before they are launched off what they perceive to be the edge of a building for the first drop of the ride. The coaster then takes riders on a series of twists, turns and adventures through the city until they reach the edge of the skyline, where a battle with alien drones and, finally, the mothership, awaits.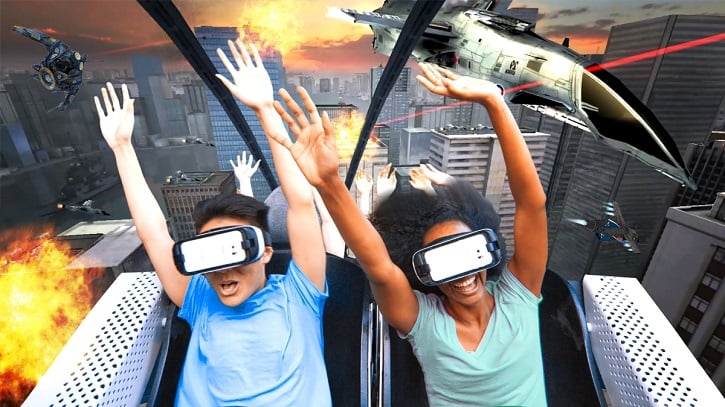 The fate of the planet lies in your Samsung VR Gear powered by Oculus Rift.
Leaping Tall Buildings…And More
Superman-themed rides have been a popular staple at Six Flags theme parks for years, but the new SUPERMAN Virtual Reality Coasters offer a new dimension of immersion. Riders are not active participants in the battle, but go along for the ride with Superman through Metropolis in an exciting adventure of leaps, twists, and hairpin turns as the hero races to defeat supervillain Lex Luthor.
The Future of VR and Amusement Rides
Samsung demoed a roller coaster simulator at Mobile World Conference in Barcelona earlier this year, but, for ride junkies, simulators don't come close to the real-life experience, now enhanced by VR. The innovative, and entirely logical application of the technology prompted VentureBeat to call 2016 "the year when VR finally comes of age."
Where to Find The VR Experience
The coasters will roll out at these Six Flags locations this year:
· Shock Wave at Six Flags Over Texas in Arlington, open March 10 to Season Pass Holders as a preview
· Dare Devil Dive at Six Flags Over Georgia outside of Atlanta, open March 12 to Season Pass Holders as a preview
· The New Revolution at Six Flags Magic Mountain near Los Angeles, opening March 26 to Season Pass Holders as a preview
· Ninja at Six Flags St. Louis in Eureka
· Steamin' Demon at The Great Escape in Lake George, New York
· Goliath at La Ronde in Montreal
· SUPERMAN Krypton Coaster at Six Flags Fiesta Texas in San Antonio
· SUPERMAN The Ride at Six Flags New England in Agawam, Massachusetts
· SUPERMAN Ride of Steel at Six Flags America in Upper Marlboro, Maryland
Guests who frequent other Six Flags parks may have to plan a vacation, or simply wait a bit longer to experience these new applications that push the boundaries of today's technology.