At the recent SXSW Conference, the U.S. Department of Transportation (USDOT) revealed the seven cities that have moved on in the government's bid to improve the nation's transportation networks, dubbed the Smart City Challenge.
The Smart City Challenge will award one city from among the finalists with $40 million to become the country's first city to incorporate innovative technologies—such as self-driving cars, connected vehicles, smart sensors and the Internet of Things—in the United States. The seven finalists in the challenge include:
· Austin, TX
· Columbus, OH
· Denver, CO
· Kansas City, MO
· Pittsburgh, PA
· Portland, OR
· San Francisco, CA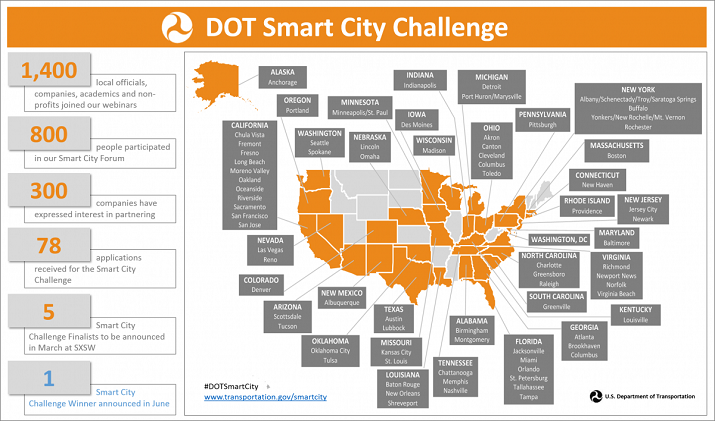 One of the seven finalists will be awarded $40 million to become the first Smart City in the United States. Source: USDOT In addition to the $40 million pledged by the USDOT, Vulcan Inc., a partner in the Smart City Challenge, has pledged an additional $10 million to the winning city to support electric vehicle deployment and other carbon-emission reduction strategies.
In the second phase of the competition, the seven finalists will receive a $100,000 grant to further their proposals for a Smart City. The winning city will then be selected based on these proposals and how they integrate the technologies to prototype the future of transportation in their city.
The USDOT has also announced a new partnership for the challenge with Amazon Web Services (AWS), a cloud-services platform. AWS will provide solution architecture and best practices guidance to the finalist in order to help leverage AWS technologies for Smart City solutions. AWS will also help bring the start-up community into the fold for these cities and bring their ideas to the finalist cities.
Other partners include Mobileye, which will equip the winning city's public bus system with the company's Mobileye Shield+ on every bus, a technology that helps bus drivers avoid and mitigate imminent collisions and protect road users. Autodesk will provide its InfraWorks 360 platform, a modeling technology for 3-D visualizations and real-world data. NXP will provide the winning city wireless communication modules that allow cars to securely exchange data, such as hazard warnings over distances of more than a mile.
The winning city will be announced in June.
To contact the author of this article, email engineering360editors@ihs.com