The U.S. Department of Transportation has partnered with Vulcan Inc. to transform the way people travel.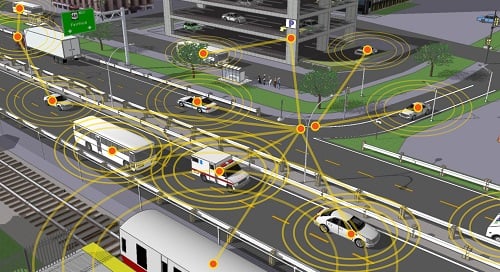 In a connected city critical city systems are capable of communicating with each other. (Source: USDOT, Volpe: The National Transportation Systems Center)U.S. Transportation Secretary Anthony Foxx has just announced a Smart City Challenge to create a fully integrated, first-of-its-kind city that uses data, technology and creativity to shape how people and goods move in the future.
Foxx invited cities across the U.S. to submit a high-level description of their vision of a Smart City by February 2016. The USDOT will then announce five finalists in March 2016, who will then compete for up to $40 million to be awarded to one city in June 2016 in order to implement bold, data-driven ideas by making transportation safer, easier and more reliable.
The winning city will need to demonstrate how advanced data, technologies and applications can be used to reduce congestion, keep travelers safe, protect the environment, respond to climate change and support the economy.
The challenge arose from a report that was issued in February, revealing that the nation may not be equipped to deal with the growing population.
The USDOT will take what it learns from the competition and apply it to other cities to improve networks nationwide and demonstrate a practical path to replacing carbon-based fuel consumption
"Transformative innovation takes ambitious support from both the government and the private sector. That's why we're partnering with the DOT to inspire innovative, scalable, proof-of-concept solutions to address some of our planet's most urgent challenges," says Vulcan, President and Chief Operating Officer Barbara Bennett. "We hope that together we can spur change by demonstrating what is possible through replicable models."
Applicants are encouraged to submit ideas that can enhance communities. Some suggested areas of improvement are directed at initiative that increase safety, reduce carbon emissions, and enhance mobility. Learn more about the Smart City Challenge.