Linear Technology Corporation's LT8641 step-down switching regulator produces up to 3.5 A of continuous output current and peak loads of 5 A to voltages as low as 0.81 V. Synchronous rectification delivers efficiency as high as 94 percent with a switching frequency of 2 MHz. Input voltage range is 3 V to 65 V.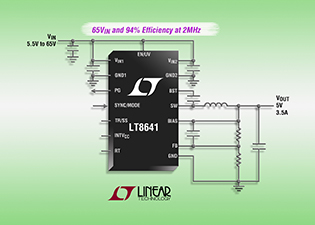 Linear Technology's LT8641 step-down switching regulator.
The regulator incorporates the company's Silent Switcher® architecture, combined with spread spectrum frequency modulation, to reduce EMI/EMC emissions by more than 25 dB even with switching frequencies exceeding 2 MHz. The performance enables the device to easily pass the automotive CISPR25 class 5 peak and average limits. The device's Burst Mode® operation keeps quiescent current under 2.5 µA in no load standby conditions, suiting it for automotive "always-on" systems, which need to extend operating battery life.
Other specifications include a minimum dropout voltage of 130 mV at 1 A, and a minimum on-time of 35 ns that enables 2 MHz constant frequency switching from a 24 V input to a 3.3 V output.
The LT8641 utilizes internal top and bottom high efficiency power switches with the necessary boost diode, oscillator, control and logic circuitry integrated into a single die. Low ripple Burst Mode operation maintains high efficiency at low output currents while keeping output ripple below 10mVP-P. Other features include internal compensation, a power good flag, output soft-start/tracking and thermal shutdown.
The LT8641EUDC comes in a 3 mm x 4 mm QFN package. An industrial temperature version, the LT8641IUDC, is tested and guaranteed to operate from a -40 °C to 125 °C operating junction temperature. Pricing starts $4.35 each in 1,000-piece quantities and both versions are available from stock.