APEC 2017 was Analog Devices' first opportunity to demonstrate that by acquiring Linear Technology, it has created an analog technology company with a comprehensive suite of high-performance analog offerings. To that end, notable new parts were unveiled under the Linear Technology brand in Tampa.
The LT8645S is a 65V, 8A synchronous step-down regulator with second generation Silent Switcher architecture. It is designed to minimize EMI/EMC emissions on any PCB while delivering high efficiency at high switching frequencies. Integrated into the part are bypass capacitors to optimize the fast current loops inside and make it easy to achieve advertised EMI performance by eliminating layout sensitivity. As such, the LT8645S is well-suited for noise sensitive applications and environments.
Featuring fast, clean, low-overshoot switching edges, it enables high efficiency operation even at high switching frequencies, leading to a smaller overall solution size. Peak current mode control with a 40nsec minimum on-time allows high step-down ratios even at high switching frequencies. Low quiescent current Burst Mode operation enables low standby current consumption; pulse-skipping mode allows full switching frequency at lower output loads, and optional spread spectrum modulation further reduces EMI/EMC emissions. Soft-start and tracking functionality is accessed via the TR/SS pin, and an accurate input voltage UVLO threshold can be set using the EN/UV pin. A CLKOUT pin enables synchronizing other regulators to the LT8645S.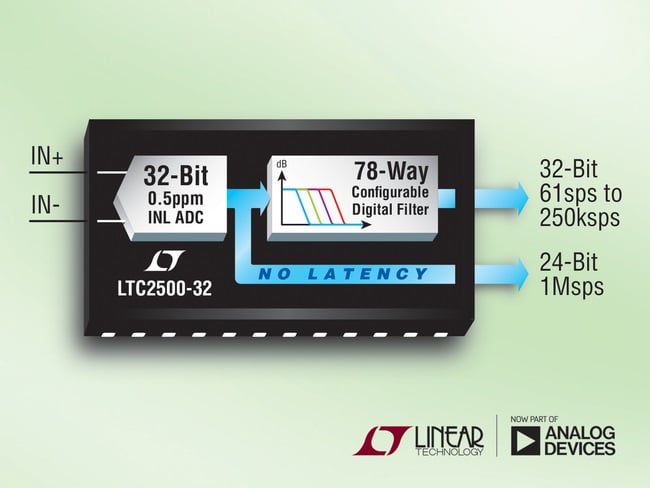 Linear2APEC
Also newly available is LT8640S, a 42V, 6A Synchronous Step-Down Silent Switcher 2 with 2.5μA Quiescent Current.
Also making its debut was the LTC2500-32, a high precision 32-bit successive approximation register (SAR) analog-to-digital converter (ADC). Aimed at precision measurement applications, it blends the accuracy and speed of Linear Technology's proprietary SAR ADC architecture with flexible integrated digital filters to optimize system signal bandwidth and ease analog anti-aliasing filter requirements. The LTC2500-32 simultaneously provides two outputs: 1) a 32-bit low noise digitally filtered output that achieves up to 148dB of dynamic range and 2) a 32-bit 1Msps no latency output comprising an over-range detection bit, a 24-bit representation of the input voltage difference, and a 7-bit representation of the common mode input voltage. The no latency output is inherently matched to the digitally filtered output, avoiding the mismatch and drift that typically occur in applications requiring an additional faster ADC to monitor signal integrity in parallel with a precision ADC. The wide input common mode range and high CMRR enable the LTC2500-32 to interface signals with varying common mode, simplifying the analog signal chain. Each of the two outputs provides a highly accurate representation of the voltage difference applied between the two input terminals.