The LTC3649 from Linear Technology Corp. is a high efficiency, 60 V, 4 A synchronous buck regulator that incorporates a constant frequency, current mode architecture and programmable output current and output voltage, which are set with a single external resistor. The LTC3649 operates from an input voltage range of 3.1 V to 60 V and provides an adjustable rail-to-rail output voltage range from 0 V to 0.5 V below VIN, while delivering up to 4 A of continuous output current.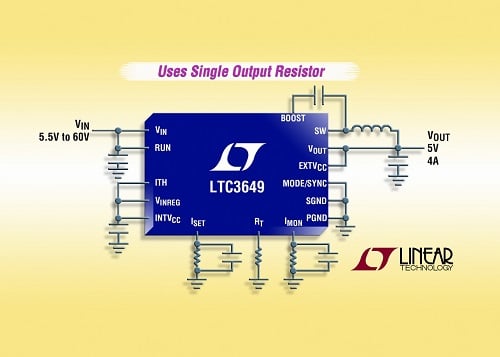 Linear Technology's 3649 synchronous buck regulator (Source: Linear Technology).With a wide input and output voltage range, the regulator is suited for a wide range of test, measurement and industrial applications. The LTC3649 incorporates an accurate internally generated 50 µA current source on the ISET pin, enabling it to deliver outputs as low as 0V with the use of a single external programming resistor. The LTC3649 offers ±0.8% output voltage accuracy and programmable output current with ±4% accuracy without a sense resistor. The regulator's switching frequency is user programmable from 300 kHz to 3 MHz, enabling the use of tiny, low cost capacitors and inductors.
The LTC3649 uses internal power switches with RDS(ON) of only 100 mOhms and 50 mOhms to deliver efficiencies as high as 95%. Burst Mode® operation offers high efficiency at light loads, requiring only 440 µA of quiescent current. For noise sensitive applications, the LTC3649 can run in forced continuous mode, offering very low output ripple. Additional features include ±4% accurate output current monitoring, a power good voltage monitor, programmable wire drop compensation, external synchronization capability and thermal protection.
The LTC3649EUFD is available in a 4 mm x 5 mm QFN-28, the LTC3649EFE is offered in a 28-lead, thermally enhanced TSSOP package. Industrial grade versions, the LTC3649IUFD and LTC3649IFE, are guaranteed to operate over the -40 °C to 125 °C operating junction temperature range. Pricing starts at $5.65 each in 1,000-piece quantities. All versions are available from stock.