NASA scientists and engineers have finished installing the 18th and primary mirror on the James Webb Space Telescope, which will replace the Hubble to become "the most powerful space telescope ever launched." The installation marks an important milestone in the telescope's assembly.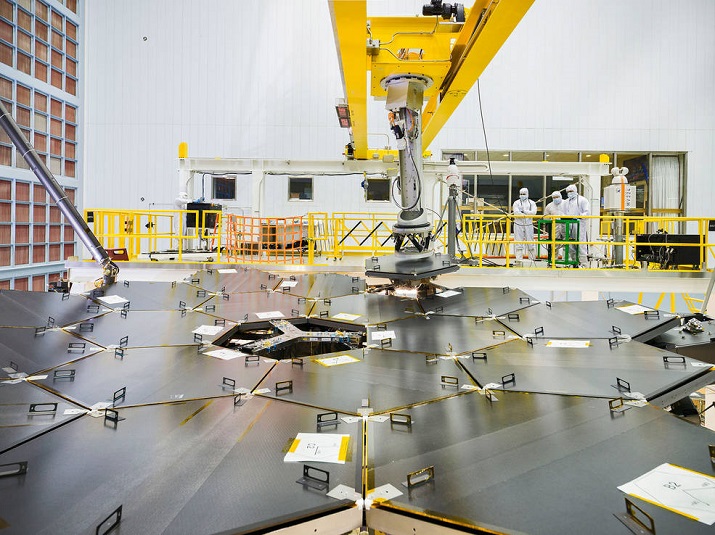 NASA James Webb Space Telescope
"Scientists and engineers have been working tirelessly to install these incredible, nearly perfect mirrors that will focus light from previously hidden realms of planetary atmospheres, star-forming regions and the very beginnings of the Universe," says John Grunsfeld, associate administrator for NASA's Science Mission Directorate in Washington. "With the mirrors finally complete, we are one step closer to the audacious observations that will unravel the mysteries of the Universe."
Robots at work
The NASA team recruited the help of a robotic arm that looks a lot like the claw machine to assemble the primary mirror segments onto the telescope structure. Each of the hexagonal-shaped mirror segments measures just over 4.2 feet across and weighs about 88 pounds. Once the telescope reaches space, the 18 primary mirror segments will work together to act as one large 21.3-foot diameter mirror.
Although the completion of the mirror is a major event, there is still a lot of work to be done. Next, engineers will install other optics and conduct tests on all of the components to make sure the telescope will be able to withstand a rocket launch.
The James Webb Space Telescope is scheduled to launch to space from French Guiana aboard an Ariane 5 rocket in 2018, and will replace the Hubble to study many phases of our universe, including the formation of solar systems capable of supporting life on planets similar to Earth, as well as the evolution of our own solar system.