ON Semiconductor introduced a 47-megapixel (MP) image sensor that it rates as the world's highest resolution interline transfer CCD device. The KAI-47051 image sensor increases the resolution available for applications such as end-of-line flat panel inspection and aerial mapping by more than 50 percent compared to the company's existing KAI-29050 image sensor, which — according to ON Semiconductor — is widely used in these applications today. The company notes that this performance is achieved while retaining the CCD-level image uniformity and global shutter architecture those applications require. The new device was designed specifically to align with the growing inspection demand for higher resolution smartphones, tablets, computer monitors, and televisions; and to improve image quality and overall efficiency in surveillance applications such as aerial mapping.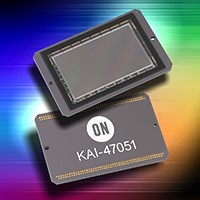 ON Semiconductor's 47-megapixel KAI-47051 CCD image sensor is designed for machine vision applications such as industrial inspection and aerial mapping / surveillance. Image source: ON Semiconductor
In addition to providing higher resolution than the KAI-29050 owing to a larger optical format, the KAI-47051 incorporates a reduced-noise amplifier that lowers read noise by 15 percent compared to the existing device, increasing dynamic range to 66 dB. A 16-output architecture enables a maximum frame rate of seven frames per second —- almost double that of the existing, lower-resolution device. Customers moving to the KAI-47051 can enjoy these performance improvements without sacrificing the image quality or electronic shutter performance inherent in the CCD design.
The KAI-47051 is available in a RoHS-compliant PGA-201 package in monochrome, Bayer color, and sparse color configurations.