Crydom is offering the NOVA22 AC and DC output solid state relays. NOVA22 solid state relays are available in both DIN rail (DR22 series) and Panel mount (PM22 series) packages.
The relay incorporates an "Elevator" screw for easy connection of ring terminals. Other features include an LED input indicator, overvoltage protection, and zero voltage or instantaneous turn-on output.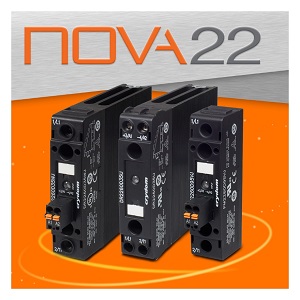 Crydom's NOVA22s solid state relay (Source: Crydom).These features make NOVA22 SSRs unique in the market, outperforming competing products on each front with a broader working temperature range (-40ºC to +80ºC), and higher resistance to surge current (1290Amps x 20 msec). High I2t models (8320 A2S) allow use of the solid state relay in conjunction with circuit breakers instead of fuses allowing short circuit protection in Type 2 Coordination per IEC 60947-4-1. Contactor configuration models include a plug-in connector for the control input, available in either standard "screw" or "spring" terminals.
The DR22 series is available in either AC output voltage (48 to 600 VAC) or DC output voltage (1 to 200 VDC). Current rating at 40 ºC is 20 A, 30 A and 35 A (only for AC output) and high I2t value (8320 A2S), making NOVA22 the only 22.5 mm DIN rail mount solid state relay with 35 A @ 40 ºC on the market, says the company.
The PM22 series is available with AC output voltage (48 to 600VAC). Current ratings include 25, 50, and 95 A and high I2t value (8320 A2S). Crydom also offers the HSP-7 thermal pad available for purchase as an accessory or already assembled on the solid state relay to facilitate installation.