With recent Apple product announcements raising consumer awareness and interest in force-sensing touchscreens, a supplier of projected capacitive touchscreens figures the time is ripe to bring similar capabilities to the factory floor and other environmentally challenging environments.
TouchNetix Ltd. announced the first product incorporating its pressScreen force sensing technology. The 15" diagonal pressScreen is supplied on a stainless steel mounting frame in what TouchNetix says is an easy-to-implement format complete with an I2C interfaced driver board.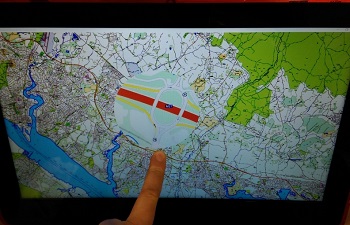 An example of "press-to-zoom" functionality — applying varying amounts of pressure to "zoom in" to the desired level of magnification. (Source: TouchNetix Ltd.)
Developed specifically for industrial and similarly challenging applications, TouchNetix' pressScreen is designed to enable mouse-type functionality with the use of a single finger on the touchscreen. It uses capacitive measurement technology and a new sensor structure and geometry to detect very small front lens displacements.
TouchNetix expects this interface to allow entirely new use cases to be developed. Possible applications the company envisions include: In systems requiring high integrity, confirming that a touch is intentional; emulating mouse clicks by pressing the surface. (As use case examples, TouchNetix offers a video demonstration of a prototype "press-to-zoom" application, and another, demonstrating a paint application in which finger pressure modulates line width.)
The company says it designed the new sensing technology from the ground up for resistance to electromagnetic interference and for easy deployment, even when fully sealed. TouchNetix reports its pressScreen technology has been demonstrated successfully in panels ranging from 7" to 22" diagonal and can be customized to meet any end-user application.