The rapid increase in smartphone and tablet use in recent years has users accustomed to interacting with their electronic devices by a simple swipe or touch of the finger. As a result, automakers are turning to touchscreen technology for a variety of applications. According to a recent IHS Markit report, shipments of touchscreen displays for automotive applications are expected to top 50 million units in 2017. This is an increase of 11 percent or 5 million units compared to 2016. This trend is expected to increase over the next four years, with projected shipments exceeding 65 million units in 2021.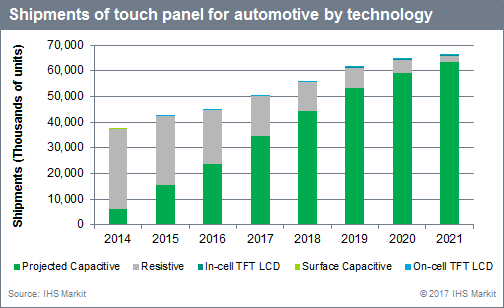 Source: IHS Markit
Touchscreen Technology
In addition to the increase in units shipped, is the trend towards projected capacitive touchscreens replacing resistive technology in automotive applications.
A film-on-glass (FG) resistive touchscreen is comprised of several layers, starting with a flexible, scratch-resistant, plastic outer layer with a conductive coating, such as indium tin oxide (ITO), on the underside. Below this outer layer is an air gap and then a glass layer, also coated with ITO. The coatings face each other and come in contact when pressed. The resistance measured when the two layers come in contact indicates the position on the touchscreen. Until recent trends, this has been the most common construction found in automotive touchscreens.
Projected capacitive touchscreens are the most common touchscreen technology used in smartphones. They are made of conductive materials layered on sheets of glass. Two varieties exist, one with a single layer that forms a grid pattern and the other consisting of two conductive layers, or parallel lines, laid out perpendicular to each other. The finger acts as an electrical charge conductor, and touching the outer glass on a capacitive touchscreen changes the electrostatic charge on the capacitive surface.
Automotive manufacturers are incorporating touchscreens into a variety of applications, such as center stack displays, navigation systems, radio human-machine interfaces (HMIs), car window switches, keyless entry and rear-seat entertainment systems. These screens must be able to endure the harsh conditions they are subjected to, such as wet conditions and extreme hot and cold temperatures.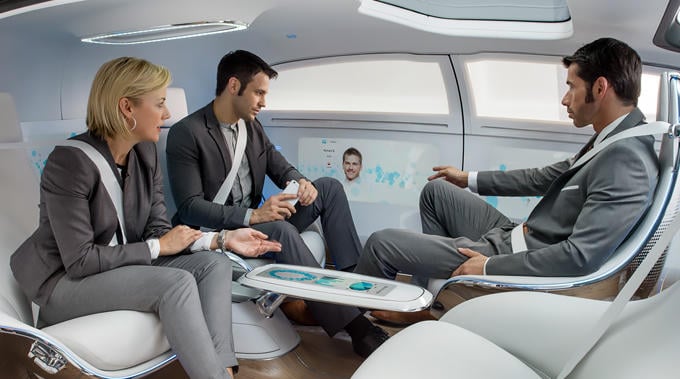 Mercedes-Benz F-105 Interior; Source: Mercedes-Benz
As capacitive touchscreens don't work without special gloves (and even with them functionality is touch and go, so to speak), it's a bit of a surprise that they are rapidly outpacing resistive screens in automotive applications.
Volvo has incorporated a large 9.3" touchscreen display in its new V90 to control virtually everything in the vehicle, including the infotainment systems, HVAC controls, the navigation system, backup camera and other settings. Volvo, along with models from GM, Suzuki and Mercedes Benz in its very cool self-driving F-105 prototype car, is using an optical touch technology called zForce (zero force), manufactured by a Swedish company called Neonode. zForce is different than resistive or capacitive technology and eliminates the need for a layered glass or plastic film that overlay the display surface. Instead, it uses a set of light emitters and detectors, an optical light guide with lenses and a touch controller IC that is connected to a host. The zForce touchscreen is ideal for harsh environments and automotive applications such as infotainment systems and steering wheels.
Beyond the "cool factor" of touchscreen displays, there are additional reasons car manufacturers are turning to touchscreens. Automakers are constantly looking to improve reliability, reduce cost and weight and increase fuel efficiency. Moving to electronics instead of electromechanical assemblies helps achieve all of these goals. Eliminating electromechanical assemblies removes production costs and reliability concerns due to dust, moisture and mechanical breakage. The touchscreen displays also weigh less and are less costly to assemble than traditional electromechanical assemblies.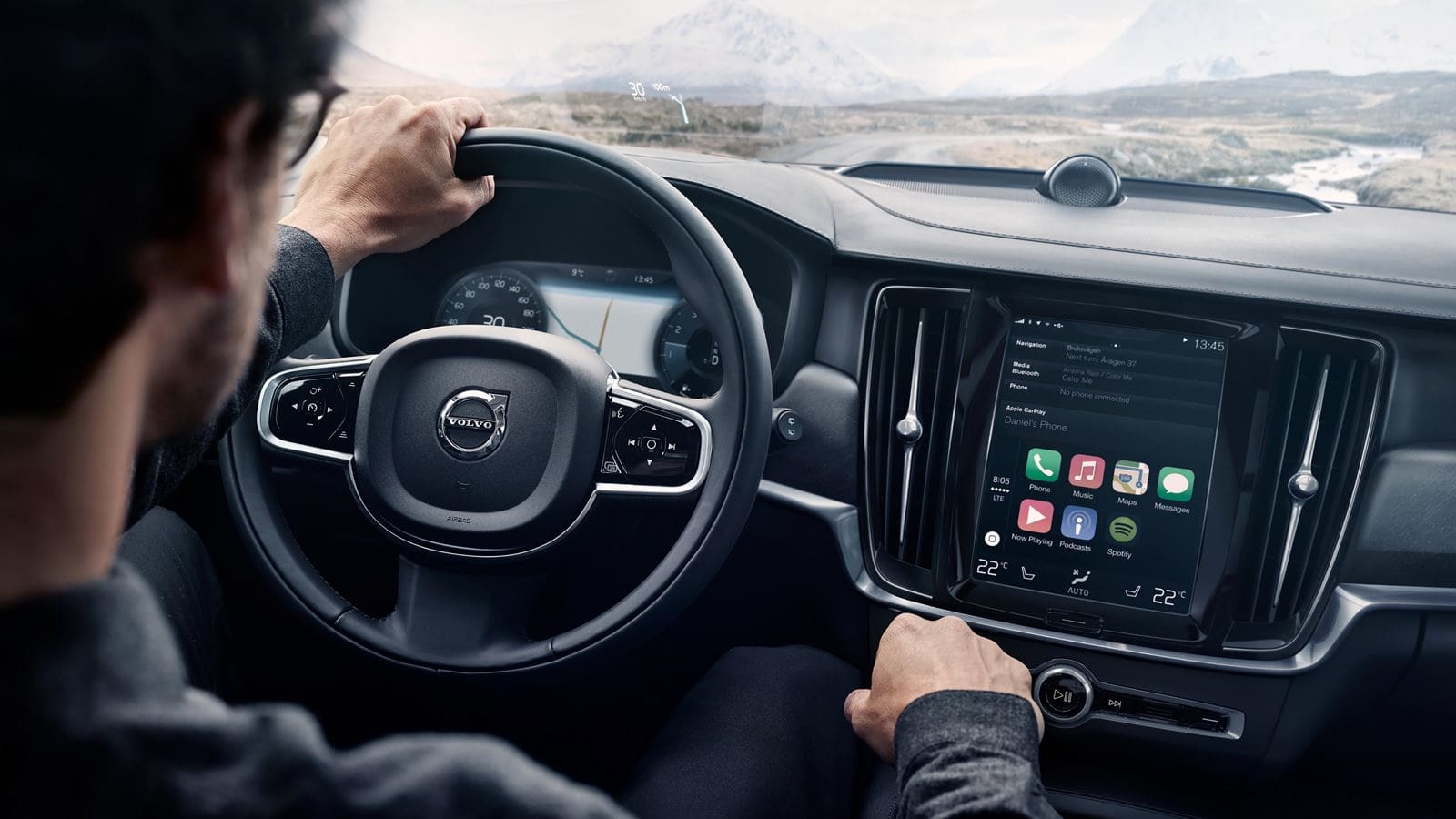 Volvo V90 Cross Country. Source: Volvo
Safety Concerns
A major concern with replacing mechanical controls with touchscreens is the issue of driver distraction. Drivers are used to interacting electromechanical controls, and can often locate them by feel, without the need to avert their eyes for a significant amount of time. In addition, the controls provide some type of tactile feedback, such as a click when a knob is rotated or a button is pushed. Touchscreens, with a lack of physical differentiation from one spot on the screen to another, will cause the driver to avert their eyes from the road more frequently, and possibly for longer periods of time.
Glance time refers to the amount of time a driver looks away from the road. Recommendations published by both the US National Highway Traffic Safety Administration (NHTSA) and the International Society of Automotive Engineers both indicate glance time should be limited to less than two seconds at a time and not exceed 20 seconds per completed task. See the Visual-Manual NHTSA Driver Distraction Guidelines for additional information.
One method employed by touchscreen manufacturers to help driver distraction is haptic technology to provide tactile feedback. Manufacturers can also tailor screen layouts to mimic traditional electromechanical controls by varying spacing, colors and shapes, in addition to the haptic feedback. See "Haptics Technology: The Story of Touch" for more information on haptic feedback.
The rapid increase in shipments for automotive applications indicates that manufacturers will continue to replace electromechanical controls touchscreen displays. In addition, trends show a move from the traditional resistive touchscreen technology to projected capacitive, which allows for multi-touch functionality. As touchscreens become more commonplace, automakers will continue to use ergonomic studies and technologies such as haptic feedback to refine and improve controls and reduce driver distraction.