Over the next four years global demand for MEMS, or micro electro mechanical systems, is expected to grow twice as fast as the semiconductor market. For vendors of MEMS, that means there are big bucks to found in these tiny mechanical systems.
MEMS sensors, which measure real world input such as temperature, weight, motion and pressure, have already found a home within major segments of the electronics industry such as automotive, according to Jeremie Bouchaud, director and senior principal analyst for MEMS and sensors at IHS. Global sales of MEMS sensors will reach $9 billion this year and will grow to more than $12 billion by 2017, Bouchaud said during a Sept. 19 webinar, The Outlook for MEMS and Sensors: Where's the Growth and New Opportunities.
Two key drivers behind this growth are the expansion of sensor technology into the measurement of humidity, gases, fingerprints, radiation, UV light and thermal imaging; and the increasing application of sensors in devices ranging from smartphones and tablets to environmental, recreations and health/medical equipment.
The consumer market has quickly become the biggest success story for MEMS so far, Bouchaud said, thanks in large part to Apple. Apple's original iPhone capitalized on MEMS accelerometers, and next-generation versions incorporated MEMS compasses and gyroscopes. Samsung met Apple's challenge by using pressure sensors in its Galaxy S3 and Note. "The continuing addition of new functions for motion sensors in handsets and tablets are driving the market toward $2 billion," Bouchaud said.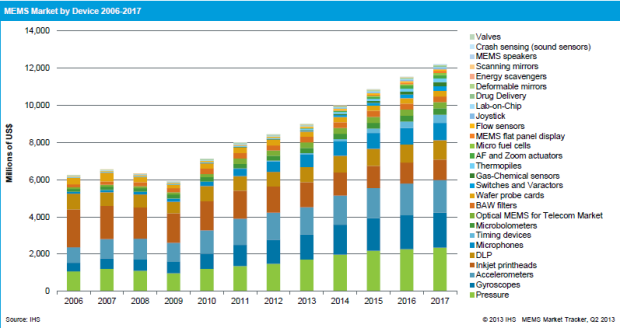 Although in some markets, MEMS have quickly become a commodity product, vendors are continuing to find ways to innovate. MEMS microphones, for example, have maintained their value by continually improving on audio quality. Overall, audio has become a bigger part of the bill-of-material investment for many mobile devices.
Vendors have also successfully combined previously discrete sensors into a single package. "In lighting," said Bouchaud, "this has not been easy to do. Performance would degrade." Now, he said, there's a significant opportunity for companies that are able to integrate ambient light, proximity and color sensors in a single package.
OEMS are increasingly using advancement in sensors to differentiate their own products. For example, vendors using the Android platform are focusing on different features such as voice, high-definition video, speakers/microphones and camera modules. Upcoming advancements in sensor technology may also find a home on these devices, although their application so far is unclear. For example, said Bouchaud, night-vision sensors will enable the recording video at night, but it's unclear if that will resonate with consumers.
Fingerprint sensors have resonated with consumers even though that technology isn't new. Previously, fingerprint sensors weren't reliable because they didn't read differentiations in skin, such as callouses, and swiping functionality was slow. Apple's advancements, which detect the shapes and shades of skin and require placement instead of swiping, has improved the fingerprint user experience.
Apple has also developed a sensor hub—a processor dedicated to sensor functions— that frees processing speed up for other applications. "The idea that you can offload [sensor applications] from the main processor and run them all day in the background without draining power is compelling," Bouchaud said. Although that concept is not new, either, Apple's adoption of the will undoubtedly spur other OEMS toward sensor hubs.