It may be time to pick sides as alliances form to promote interoperability among devices enabling the Internet of Things (IoT) for home automation, field area networks and building automation.
Just as the Wi-SUN Alliance was starting to get the word about its expansion from utilities into home automation, field area networks (FANs) and smart cities, backers of the BACnet, KNX and ZigBee building networking protocols have come together under the new Fairhair Alliance to bring the IoT to building automation.
The formation of Fairhair underscores the need for interoperability to realize the benefits of billions of smart nodes that will be enabled by 2020.
Led by Cisco, Silicon Labs, Lutron, Osram, Siemens and Philips, Fairhair brings together three communications protocols—BACnet (Building Automation and Control Network), KNX and ZigBee—each of which currently plays a part in the automation of building lighting, heating, ventilation and air conditioning, yet still operate independently.
Under Fairhair, the groups share a vision of a cost-effective, certified and secure IP-based, common network infrastructure that can serve as a basis for interoperable lighting and building automation systems.
To date, building automation has been fraught with proprietary, standalone solutions, so Fairhair will provide a common building network infrastructure that supports the IoT of such resource-constrained devices, including sensors, lamps, luminaires, thermostats and dimmer switches.
At a certain level, Fairhair also shares many of the goals of the Wi-SUN Alliance, in that it is targeting ultra-low-power applications, uses open IETF standards to make its network fully Internet compatible, and uses an IEEE standard radio.
While the intention is similar, Fairhair's use of ZigBee means it is focused on the IEEE 802.15.4 physical layer. Wi-SUN uses the lower-power 802.15.4g interface. Also, Silicon Labs' backing hints at the leveraging of the Thread Group's experience in home networking.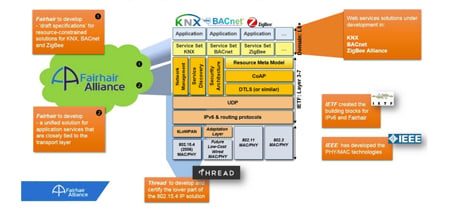 Fairhair is the latest addition to the roster of alliances striving to unify a babel of competing communications networks to realize the full potential of the IoT, in this case for in-building automation. "We're excited about Fairhair," says Skip Ashton, vice president of software engineering at Silicon Labs, a founding member of the Thread Group, "and getting everyone onto IP is step one, as we need to integrate [building automation] into IT systems."
Fairhair's scope is defined as offices, retail outlets, shopping centers, airports, government buildings, factories, warehouses, logistic centers, multi-tenant residential buildings, hospitals, hotels and educational establishments, to start.
However, as Wi-SUN moves from utilities to FANs and smart cities, it is not hard to envision it competing with Fairhair for overlapping in-building applications, but Silicon Labs dismisses Wi-SUN as being too utility centric.
So does Lee Ratliff, principal analyst for low-power wireless at IHS, who also pointed its geographic focus. "Wi-SUN is a Japanese protocol for running ECHONET-Lite over 802.15.4g," says Ratliff. "It is the protocol mandated by the Japanese government for connecting HAN [home area network] devices to a smart meter. "
While both Fairhair and the Thread Group can make homes "smart," Wi-SUN's odds of being able to launch off its utility background to HANs are pretty low. "Maybe in Japan," he says. " The rest of the world has shown little interest in [Wi-SUN's] ECHONET-Lite or 802.15.4g for that matter."
Bob Heile, director of standards at the Wi-SUN Alliance, disagrees with Ratliff's take on Wi-SUN's geographic focus. "Systems are already being deployed in Smart City applications particularly for street lighting in Europe and the US using the Wi-SUN specification," he says. "A canopy Wi-SUN network (like street light lighting) connected to a backhaul using data aggregation points (Wi-SUN to LTE or to fiber) is an ideal solution for Smart City IoT networks."
"On the home automation front," he adds, "Japan has already adopted Wi-SUN for HEMS [home energy management system]: They are already on the path with the installation of Wi-SUN in the majority of the 60 million meters in Japan." While he acknowledges that Japan is the only market for home networking, "It will serve as a strong reference market, particularly for India and China."

"What Wi-SUN uniquely offers is regional-specific PHYs and certification," says Heile. "This is needed since there is no universal regulatory environment."
To contact the author of this article, email engineering360editors@ihs.com